Landscape Drainage Solutions
Protect Your Property from Water Damage
If you have a beautiful home/backyard property, it's clear you've invested time and money into making it perfect. However, living in Michigan with icy winters and soggy springs, your pretty flowers and well-manicured lawn can quickly turn into a swamp with pools of standing water throughout your property if you don't plan for proper landscape drainage.
Q: What causes standing water in your yard?
A: Standing water in your yard is typically caused by one of two issues; poor soil quality or low spots in your yard.
Q: How can a soggy yard be fixed?
A: There are several ways to fix a soggy lawn. Some solutions include a regrading, installing a french drain, or burying the downspouts. The best thing to do is to hire a professional drainage expert. They will be able to determine what fix might be best for your yard.
Q: Can standing water cause foundation damage?
A: The short answer is yes. Standing or pooling water can cause a wide variety of issues and problems for homeowners. None more costly, than damage to a structure's foundation.
If you are experiencing:
Standing Water in Your Yard
Water Pooling Under Downspout Drains
Puddles Turned Mosquito Breeding Grounds
Wet Basement
Warping Wood Floors
Shifting Foundation
Build Up of Ice on Patios and Sidewalks
Then you should have your property evaluated by a drainage expert.
Chapter 1:
Why is Landscape Drainage Important?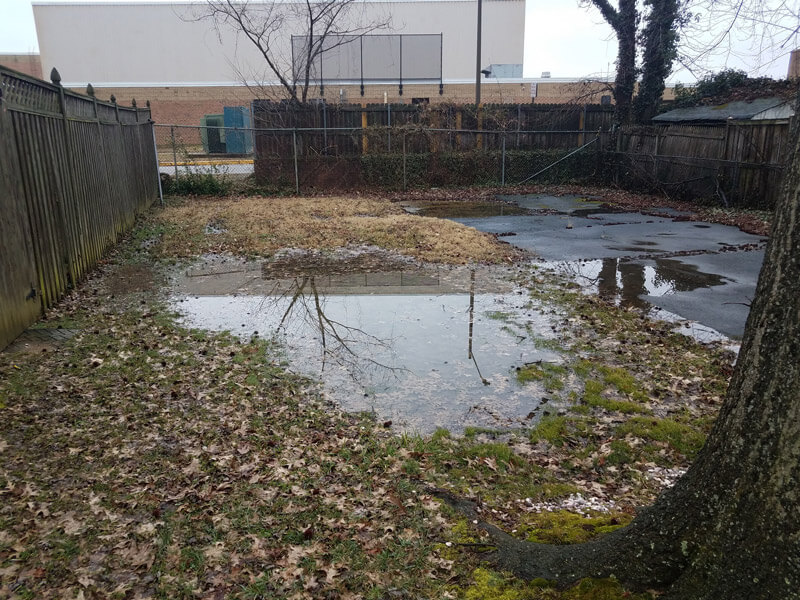 Landscape that doesn't drain well doesn't just leave you with an eyesore and a swampy mess, it can cause major damage to the property you have invested a lot of time, money, and effort into. A well-designed water drainage system is a must in areas where the land is flat, the water table is high, and/or soil is dense. Without a proper landscape drainage solution in place, puddles will form and kill plants, grass will die from sitting underwater, water could seep into your home, and your foundation can suffer great damage.
Luckily there are solutions to yard drainage problems. It is important to consider topography. A yard that gradually slopes away from the house can work wonders. There are also architectural landscape drainage design options, such as a French drain or trench. An expert will know which option will work best for your property. Selecting the wrong drainage solution can leave you with a muddy mess. This is why is it imperative to have someone with the proper experience and knowledge, evaluate and solve your drainage issues. Typically known as a landscape drainage contractor or yard drainage contractor, they have the experience and certifications necessary to properly assess your residential property.
Find the Solutions to Your Water Drainage Woes
Drainage problems? Use this guide to take the proper steps to rid yourself of unwanted water on your property.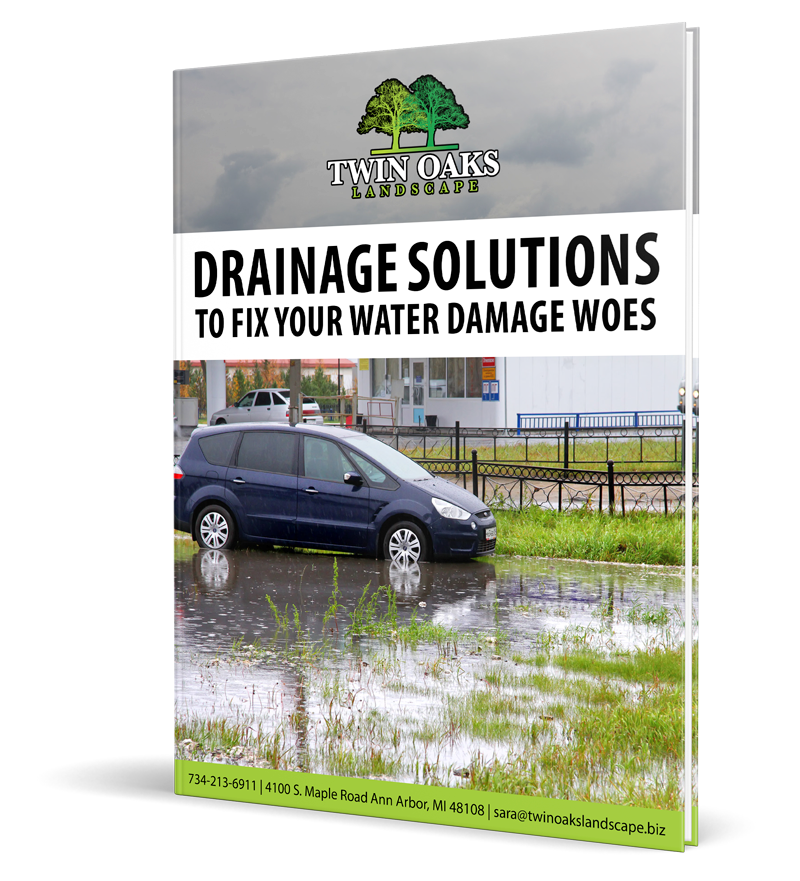 Chapter 2:
Two Sources of Landscape Drainage Issues On Your Property
There are two types of water sources that will lead to your landscape drainage issues: surface water and subsurface water. Both separate and together, they can be devastating to your property. Identifying which source is causing your yard drainage issue is the first step in correcting it.
Surface Water
You'll know you have a surface water drainage issue when you start to see pools of standing water in your yard. Surface water gets trapped because there is nowhere for it to go. This can be due to poor design and improper grading.
Subsurface Water
A subsurface water problem is harder to spot because its underground. Poor drainage causes water to get trapped under the surface of your landscape. This means water can easily penetrate your home causing not only water in your basement, but structural damage to paved surfaces and your foundation.
Subsurface water collects underground and gets trapped when there is poor drainage. Excess water is not good. Even trapped, it can still freeze and expand, causing potential damage to your property. The frozen water pushes against your foundation and paved surfaces, causing heaving, cracking, and structural damage.
Chapter 3:
Common Causes of Landscape Drainage Problems
You have a drainage problem when water on your property doesn't move. It is as simple as that. There can be any number of reasons for your drainage issue, from naturally occurring elements to just plain bad design. The most common causes of landscape drainage problems in your yard may include:
Chapter 4:
7 Solutions for Common Landscape Drainage Issues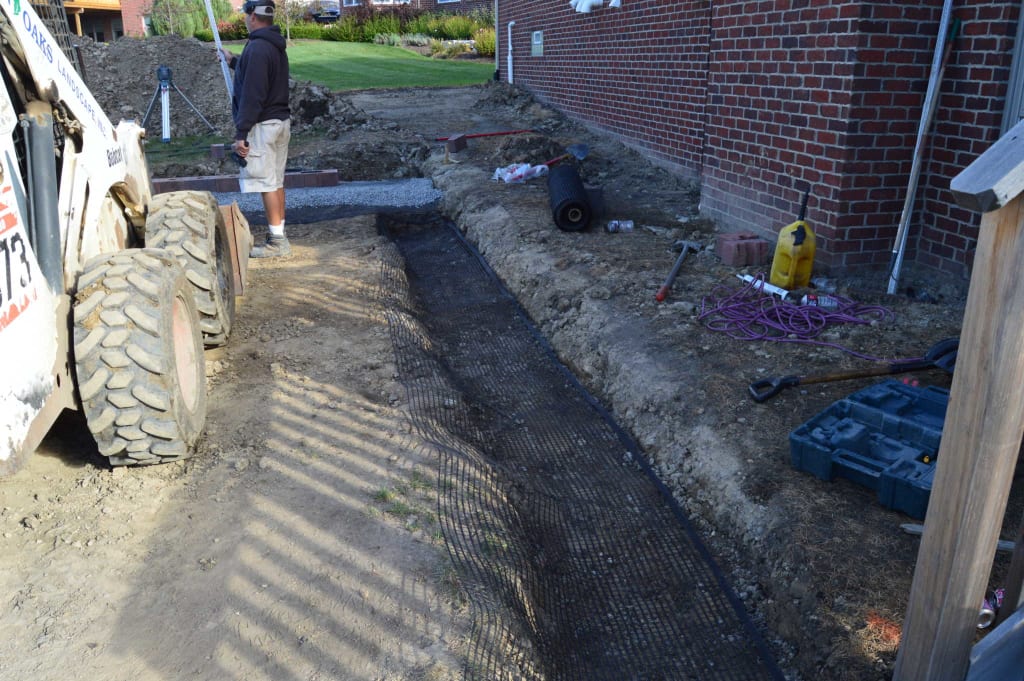 You want to know how fix the water drainage problem in your yard before major damage sets in. The solution for your landscape drainage issues will completely depend on the problem and be unique to your property.
Here are some solutions for the most common drainage issues in your yard:
1. Mulch
This is, perhaps, an easy solution. Adding mulch can protect your plants by preventing water from puddling up while preventing erosion.
2. Grading
Grading your yard away from your foundation will give the water somewhere to go. The proper slope will move runoff away from your home where pooling water can cause the most damage. It's important to know how to grade a yard for drainage or find someone who does!
3. French Drain
A French drain is a popular drainage fix. This method uses trenches with pipes and gravel buried under a thin layer of soil. Water seeps into the gravel, then to the pipes which carry it away.
4. Creek Beds
Creek beds can be an attractive and practical yard drainage solution. Creating a creek bed gives the water somewhere to go and moves it away from areas where damage is likely.
5. Downspouts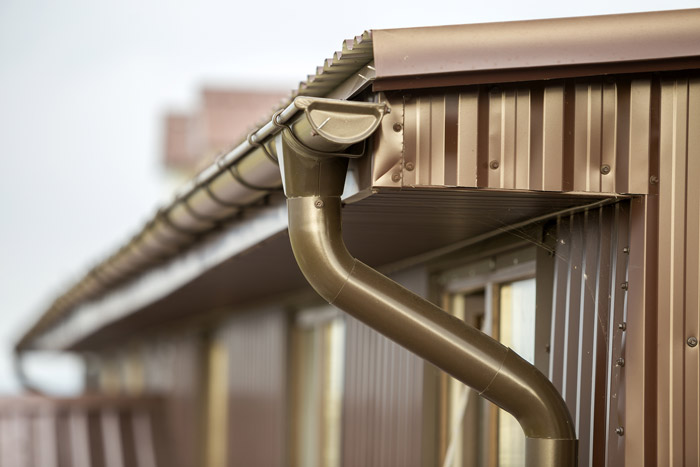 This may seem like a no-brainer, but improper placed or missing downspouts can dump water right at your foundation. Make sure downspouts are placed in a way that prevents rainwater from falling off the roof and pooling next to your home or building. Instead, they should empty away.
6. Retention Areas
You may want to consider adding a retention pond or bog to your landscaping. This drainage solution is an environmentally conscious one that takes care of water right where it gathers. Doing this allows the water to slowly drain back into the ground rather than flood it. It can also be designed as an attractive addition to your landscaping.
7. Grassy Swale
This is a natural yard drainage system designed to divert water away from your home. A grassy swale is a slight hill or grade that diverts water from one side to roll down to another. This causes water to gather in another area, such as a pond or ditch.
Chapter 5:
Questions To Ask a Yard Drainage Contractor
The best way to battle drainage issues is to start with great landscaping. This means turning to an experienced professional who will take landscape drainage into consideration as part of an eye-catching design. You want a residential drainage contractor company that offers various options, not someone who focuses on just one single problem with one solution.
Before hiring a drainage contractor, there are some questions you should ask to make sure you have the right company for the job. These should include:
Q: Do you have references?
The most reputable landscapers won't hesitate to provide you with a list of their customers with projects similar to yours. They will want to show off their work and customers whose drainage problems have been fixed by them.
---
Q: Do you have a licensed Landscape Architect on staff?
A landscaping company with a licensed landscape architect on staff tells you they have advanced training and expertise in a wide range of techniques to solve your water problems.
---
Q: Can I get a written estimate?
A company should be able to give you a solid price after an on-site evaluation. NEVER accept an estimate from someone who has not seen your property in person. They will only understand your problem if they see it firsthand. And get written estimates from at least three different companies. However, the cheapest estimate is not always the best option.
Twin Oaks Landscape in Ann Arbor, Michigan can help diagnose your drainage problem and create a lasting solution. We are ready to evaluate your drainage issues and correct them in a way as unique as your property. Our landscape architects and engineers will create a custom draining solution to address your particular problem. Our highly experienced and thoroughly trained exterior drainage contractors will install your solution and give you back the beautiful and dry home and landscape you deserve.
We have hundreds of satisfied customers who know how important it is to have a knowledgeable and qualified company on the job, and who have recommended us to their friends and neighbors. Let's add you to that growing list of happy clients.
If you think that you might have drainage issues or would like to have your landscape evaluated for potential drainage problems, contact us at Twin Oaks Landscape today at (734) 213-6911.