Let Twin Oaks Design and Build Your Ideal Yard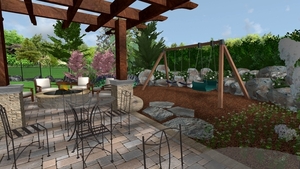 If you're looking to transform your yard, garden or common area the first thing you'll need is a plan for your landscape project.
That's why we utilize a variety of software programs including Dynascape, an innovative CAD-based software which works in conjunction with Google Sketch Up to present you with a remarkably accurate 2 or 3D vision of your project.
This level of transparency ensures your complete satisfaction with the eventual product. We can construct a detailed model of our design. If you're not completely satisfied with its look just let us know, as the designs can be easily altered with a few careful mouse clicks.
Planning out your design in advance to this degree allows you, the client, to take a very active role in the process, allowing you to tweak and perfect the overall look of your project from the beginning. Undecided about how you would like to proceed? Using our programs, we can illustrate a number of potential scenarios for you, clearly showing you what the end result of various options would be, you'll be able to have an accurate look at where your project is going before the real landscaping has even begun.
What kinds of projects can we visualize?
Well, here at Twin Oaks we offer two main types of landscaping projects: softscapes and hardscapes. What are those exactly?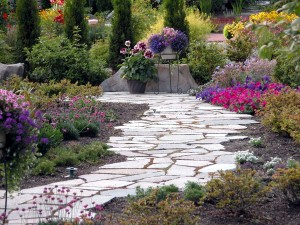 This type of landscaping project works with your preexisting space, enhancing its beauty and impact through the utilization of its natural elements. The elements of a softscape, including grass, plants and soil, are alive and require regular care. Just what degree of care will be necessary will depend upon your specific needs and requests.
Regardless, softscapes utilize elements like flowers, trees, shrubs and more to take a drab, boring lawn and transform it into an engaging conversation starter. We'll select the perfect plants for your application, working in tandem with your specific aesthetic taste and considering the realities of your application. For a natural, beautiful lawn, consider working with Twin Oaks to create a vibrant new softscape today
A well-constructed hardscape can transform a home. Adding on a deck, patio or porch can give you additional space to entertain guests and provide you with a relaxing place to sit back and appreciate nature. Installing a new walkway in your backyard can make traversing your property a more enjoyable experience.
A new driveway can make your home more accessible and be inviting. Plus, hardscapes don't have to replace nature. While they can be used to replace yards and gardens, smartly-designed hardscapes can also enhance these items, allowing you the ability to appreciate them in a whole new way. If you're considering a landscape design project, contact Twin Oaks Landscape today!