Just like anything, even your patio and deck require some form of maintenance to keep up its value and aesthetics.  A fresh coat of sealer for pavers and power washing for composite decks keeps these investments a true property asset.
Brick Paver Maintenance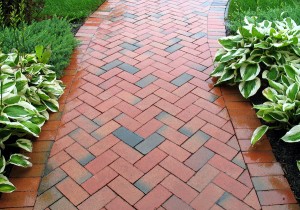 When new brick pavers are installed by Twin Oaks Landscape, we have them set for about 90 days prior to sealing, as suggested by the manufacturers. In addition, the pavers may need a second or third coat of sweep sand, before sealing can take place.
Regardless if sealing the pavers or not, one year after the installation, pavers should be re-swept with jointing sand. Re-sweeping pavers should be conducted on an annual occurrence unless the jointing sand has settled all the way. We recommend sealing pavers every 3 – 5 years.
For brick pavers in need of rejuvenation (not installed by Twin Oaks Landscape), we first conduct an analysis prior to restoration work beginning. Pavers that have moss, and weed growth can be power washed, and power washing may also help remove stains from standing water, fruit-bearing trees, and leaves.
Once pavers are washed and dried, a plate compactor may be used to re-level walking surface, then they can then be re-swept and sealed.  Brick pavers that have a compromised base can be removed and re-laid once the base material is restored.
Composite Deck Maintenance
Generally, all maintenance details are provided as per the manufacturer's recommendations.  Each brand, such as Azec or Trex, have their own specific guidelines for keeping up their appearance, which is generally very low when it comes to maintenance. At Twin Oaks, we can provide such services for maintenance as needed.
We want to help you maintain the outdoor space you've always wanted.  Contact Twin Oaks Landscape today about our maintenance services.