Enhance the Beauty of Your Property With a Custom Softscape
At Twin Oaks Landscape we'll work together to find the perfect plants for your softscape, the kind that will flourish in your specific location while simultaneously catching the eye of all who come across them. We use only the finest plant materials to create ideal aesthetic combinations.
How Can Twin Oaks Build You the Perfect Softscape?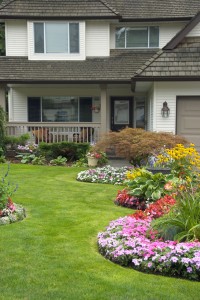 We'll pick ideal plants for your specific application. A plant might be beautiful, but if it's ill-suited to its location its beauty may not last for long. Together, we can choose plants that are right for our climate and for your goals for your property.
We pay equal attention to aesthetics and functionality. We'll not only pick plants which match your application, we'll choose ones which look beautiful as well.  With Twin Oaks you won't have to make that choice. We simply pick the right plants every time.
We can help you fill in each element of your softscape. There's more to a softscape than just plants. You might also require mulch or a ground cover. You might need to aerate or refresh your soil. Perhaps you even want to plant bigger items like trees or shrubs to give your softscape a more dramatic impact. At Twin Oaks, we can assist you with your outdoor needs including bigger projects like drainage, hardscapes and year round maintenance of your property.
We're qualified. With more than 20 years of experience on our side, Twin Oaks is a fully certified and trusted landscaping company, the kind which you can depend on to accomplish a job effectively. Come find out the difference that kind of experience can make today.
At Twin Oaks Landscape, we want to help you create the outdoor space you've always wanted.  Big or small, contact us today to realize your outdoor goals.