Any major home improvement project, be it a new addition, a renovation or a landscaping redesign, is a weighty thing to take on. The outcome will have a major effect upon the overall look of your home, and though you can plan in advance down to the smallest detail there's really no way to know how much you'll like it, or how true to your vision the final product might be, until you actually see it in its completed form.
But what if you could see the aesthetic impact of your concept before work even begins? What if you could get an accurate picture of the future, not only including the item or area you're designing but of its impact on the surrounding areas as well?
Dynascape Provides 2D Design
Thanks to Dynascape, the innovative computer-aided design (or CAD) program utilized by Twin Oaks Landscaping you can. Never again will you have to wonder about the impact of your design choices. See them in advance, decide if any tweaks need to be made, craft your plan to your exact specifications and then watch what you've already seen through our software come into being.
CAD programs are used in a wide variety of applications and fields. They have in fact become an essential tool for most engineers. With a CAD program like Dynascape you can take a two-dimensional blueprint and make it come alive, creating a remarkably accurate picture of what your design will soon become.
Stay On Track
These models can then be used as the basis for the final design during construction. We can make these computer-generated models extremely detailed, making sure that as little is left up to chance as possible when the process of creation actually begins.
As such, these models benefit both the landscapers who will design your project (in conjunction with your parameters and specific wishes) and the consumer. Both have a great deal to gain from this technology, and that is why we use it for every major project we do.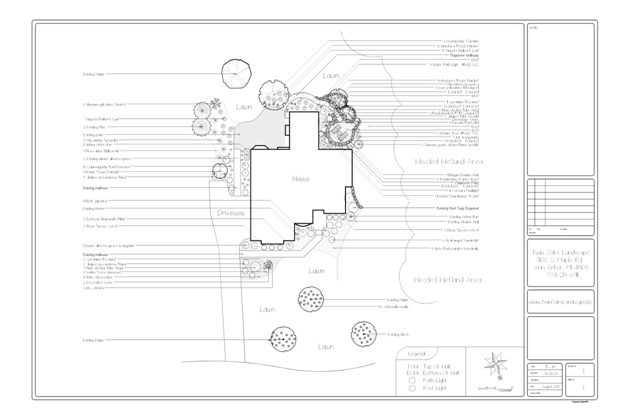 This is a bird's eye view of the entire landscape. This plan will have all plants and materials labeled, and is developed to scale. A 2-dimensional design is what our production team will use to complete your project installation.
If you have a hard time visualizing this type of design, you may first like to start out with our 3D design which will help you to really see what your landscape could look like. If you're looking to start a landscape project, contact Twin Oaks Landscape today!