April 20, 2018
Does a stream form in your yard every time it rains? Then you probably have a drainage problem. You want to fix any drainage issues you have as soon as possible. And while you may have already figured that out yourself, that doesn't mean correcting the problem is DIY.
Depending on the complexity of your drainage issue, this is one of the landscape projects that, many times, should be left to a professional. There may not be much of a difference between solving a problem and creating one, and for DIY-ers it may be hard to determine the difference.
Start with Great Landscaping
The cause of a common draining issue could be lurking in your landscaping. Inferior landscaping can cause water to pool at the foundation of a home. This can lead to water penetrating the inside of your home and destroying drywall and wood floors.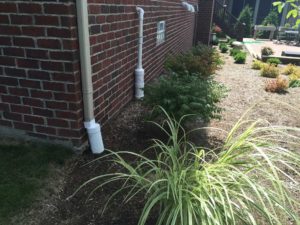 There's more to think about than just what plants you want installed in your beds. To prevent another major issue you must consider the bed's layout and slope. Flower beds need to slope away from the home to keep water moving. Failing to do this can lead to disaster. That could cause the water to remain in the beds, killing your plants, or going in a direction that causes other damage.
Improper bed designs impede the natural water flow, keeping the water from moving in the direction the developer and engineer intended. That could cause the water to remain in the beds, killing your plants, or going in a direction that causes other damage.
Improper grading of your yard can create depressions that hold water, as well. This excess water will ultimately kill your turf and plant material. Plus, it can leave you with marshy conditions in those areas if it continues.
Whatever corrective drainage measure you select for your property, the most important thing is to identify your water patterns and ensure they work within the scope of your overall design.
Interview contractors
Not all landscaping companies are created equal. For drainage issues, you need a company that does more than simply cuts grass, trims shrubs and puts plants in the ground. You want a landscaping contractor with a licensed landscape architect on staff. This lets you know they have advanced training and expertise in wide range of techniques to solve your water problems.
Once you have a list of potential contractors, call and set up appointments for them to come look at your yard. Ask them several open-ended questions about causes of your problem and possible solution. You will want to work with a landscape company that offers various options and can see your property as a whole. You don't want to work with someone who focuses on just one single problem with one solution. You need a contractor who also thinks about the future. Ask plenty of questions and select the contractor who spends time answering questions and explaining the process.
As you interview landscape contractors, avoid companies who want to give you a price before they have even seen your yard. No estimates should be given without an on-site evaluation. Every single property is different. And every single solution to a drainage problem should be, too. In addition, be wary of contractors who ask for large sums of money up front or do not apply for proper permits. This could leave you in a lurch and end up costing you double if another contractor is needed to finish or fix the job.
Get written estimates from at least three different companies. Keep in mind that the cheapest estimate is not necessarily the best option. You may have to invest a little more for higher quality products and services.
Check references
It should go without saying that you will want to work with a reputable landscape company. Take the extra time and effort and check their references. Reputable landscapers are proud of their work and will be more than happy to provide you a list of their customers who have had they compete projects similar to yours.
Checking references can be a time-consuming process, but one that should pay off in the end. Ask the customers how the work has held up over time. Highly satisfied customers will usually allow you to come see their properties. Then you can to see how the drainage was changed, and envision what yours could become.
You can also contact the Better Business Bureau for a landscape contractor's Business Profile before hiring them. And check the company's licensing, insurance, and affiliation with national franchises or associations.
Drainage issues are not only unsightly, but they can also lead to some serious damage if left untreated. Twin Oaks Landscape can help diagnose your drainage problem and create a lasting solution. Call us today at 734-213-6911.
"We recommend Twin Oaks to any entity looking for a full-service, talented, and responsive provider."
Therese Mahoney
Secretary/Treasurer of Doral Creek Condominium Association, Ann Arbor, Michigan