May 10, 2018
When it comes to running an homeowners association property in Ann Arbor, appearances matter. The first impression you leave on potential residents will impact their decision to move into the neighborhood. This means that a lackluster curb appeal could make them think twice. If you're unable to put any care into your HOA properties, how will they know that you care about running the HOA effectively?

Now, you might have someone come to mow your lawn a couple times a month, but such basic maintenance isn't going to be enough, especially if your HOA property features have been stagnant for years. If you want to make a lasting impression that reflects positively on your brand, then you're going to want to freshen up your property with new landscaping and hardscaping features.
Ways to Freshen Up Your Property
If your Ann Arbor HOA property's landscape is getting stale — meaning, you haven't done anything to improve it for years — then the following are a few ways that you can freshen up your property.
Adding new landscaping elements
There are countless ways that you can improve your property's landscape. Every HOA property is different and we can help pinpoint what makes your property unique in order to add new landscaping elements that will be the most effective at boosting your curb appeal. The following is a sample of some of the landscaping features that you can introduce to your property:
Trees and bushes – Adding height to your properties landscape features can help keep your landscape from looking to flat. Before planting trees and bushes, you'll need to know how they will look once they are fully grown. You won't want to end up with a property that feels cramped and messy because too many trees and bushes were planted too close together.
Plants – Different plants grow better under different conditions. We can help you choose an assortment of plants that will thrive on your properties and common areas and that will work well to create a beautiful, cohesive look.
Flowers – There's no better way to add color to a landscape that might be getting a little too green than by planting flowers. Flower beds can help ease the transition from a lawn to a building. They can also be useful in decorating the walkways. You'll want to plan out how you choose your flowers so that they will bloom in season.
Water features – Water features like birdbaths and Koi ponds can help bring some life to your landscape while retaining a natural feel.
Adding hardscaping elements
While landscaping is certainly important, you should consider introducing a few hardscaping elements to add a touch of contrast to your property, which will help to give it a more balanced design. The following are just a few hardscaping ideas that you could use:
Outdoor seating areas – A small paved space near one of your major landscaping features, such as by a pond, provides visitors with a place where they can sit down and comfortably enjoy the work you've put into the property's landscape. Just make sure that you use comfortable chairs or picnic tables to get the most out of such a space.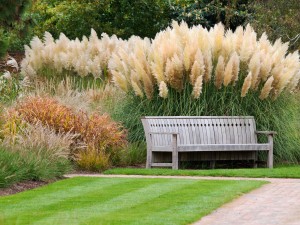 Walkways – In addition to building a walkway that leads through the landscape to your front entrance, consider building a walkway that loops around your entire property and that maybe leads to some of your outdoor seating areas. Walkways can be built out of all kinds of hardscaping features to create a unique look, from using pebbles to bricks.
Landscaping borders – Using small retaining walls or even gravel along the borders of your landscaping elements can help define the different parts of your property and help make your landscaping elements pop more visibly.
Create a lighting scheme
It doesn't matter how much effort you put into your landscaping and hardscaping if you don't have a proper lighting scheme. Once the sun goes down, you're not going to be able to see any of your property if you don't have proper lighting. Good lighting is essential to not only highlighting your favorite landscaping and hardscaping features, but it's also incredibly important to the safety and security of your property.
The last thing you'll want is for residents and visitors to injure themselves tripping over something that they couldn't see because it was too dark – and you certainly don't want anyone sneaking around in the shadows of your property. You can install a variety of lighting fixtures to help create the type of ambiance you're looking for, all while keeping your property safe and secure.
Use sound design
This might seem like an odd tip. After all, what does sound have to do with your property? Well, certain sounds help to create a more tranquil environment, which can have a pleasing effect on your visitors. The following are just a few ways that you can use sound in your landscape design:
Build barriers – First of all, if your HOA property is near a road, you'll want to create a barrier that blocks out some of the traffic noise. Nothing will ruin a tranquil atmosphere like the sounds of cars speeding down the highway, after all. Building a wall separating the property from the road is probably the most effective way to do this. However, you could also build a wooden fence or plant a row of tall bushes (or a long hedge) to help insulate your property from exterior sounds.
Add water features – Few elements produce a sound that's as calming as running water. Adding a small waterfall to your pond or installing a bird bath with a running water component can help to bring those natural sounds to your property.
Add bird feeders – The sound of birds chirping helps to give a property the feeling of a natural environment. Most prospective homeowners are going to want to live somewhere that has a natural ambiance, and attracting birds to your property by putting up bird feeders is an excellent way to do this.
Maintaining Your Landscape Design
When you invest in improving your property's curb appeal and function, it's important to understand that it's not a one-time strategy. Landscape designs require regular maintenance to ensure that they continue to look beautiful. The following are a few important maintenance tasks that will keep your landscape in good shape:
Upgrade your irrigation system – A good irrigation system will help keep the lawns in your HOA healthy all year long so it maintains its beautiful green color while also ensuring that you don't waste water, saving you money on your water consumption.
Have your trees and bushes trimmed regularly – Trimming your trees and bushes will help to promote their growth and will keep your property from looking messy. Trimming tree branches that are damaged or growing to close to homes in your HOA can help keep property safe as well.

Improve drainage – Better drainage will not only keep your landscape healthier, it will also help prevent potential water damage to your building. Your HOA landscaper can offer suggestions and solutions such as trench drainage, landscaping, and storm water management solutions.
Add seasonal elements – You should talk to your HOA landscaper about seasonal services like mulching, snow removal, snow plowing, and fall cleanup of your property. These maintenance services help keep your HOA landscape looking great throughout the year.
For information about our comprehensive landscaping services, be sure to contact us at Twin Oaks Landscape in Ann Arbor, MI today.
"We recommend Twin Oaks to any entity looking for a full-service, talented, and responsive provider."
Therese Mahoney
Secretary/Treasurer of Doral Creek Condominium Association, Ann Arbor, Michigan