February 20, 2018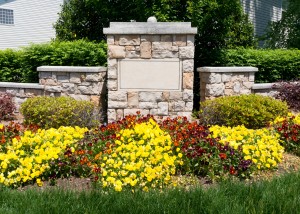 Finding the right commercial landscaping company to take care of the common areas of a residential community can be a particularly daunting task for the staff of a homeowner's association.
In addition to meeting the needs of the association's budget, the staff member assigned with the task must also satisfy the sometimes unusually excessive demands of the neighborhood's residents.
With those thoughts in mind, here are just a few suggestions on what you should consider before making a final decision:
Expertise
A quality landscaping company is capable of handling a wide variety of residential and commercial tasks.
Simply being able to mow a lawn or trim a bush is not enough.
In fact, the best ones can also trim – or completely remove! – a tree, install and maintain a sprinkler system and even construct a stone retaining wall.
In addition, the best landscaping companies will not only properly maintain the communal property of a neighborhood in an ongoing manner but also offer proactive suggestions as to how best to keep it in top form.
Experience
With the above said, it should also be noted that book knowledge is one thing, but practical experience is quite another.
Look for a landscape maintenance company that has a proven track record of dealing with relatively large projects.
An HOA of any reasonable size will have a multitude of projects that need to be undertaken at the same time.
These types of projects can range from mowing the traffic medians located along a neighborhood's throughways to trimming the trees around utility poles to maintaining the grounds on an abandoned property.
You can also count on your landscaping company to offer snow removal in the winter. By having dedicated staff, even in the offseason, shows how committed your landscaper is to their customers.
Reputation
One of the simplest ways to check their reputation is to see how long the landscaper has been in business, how they are rated by the local Chamber of Commerce and the Better Business Bureau, as well as how previous customers rate them.
The vast majority of landscapers are run by local business owners and depend on their reputation in the community.
Try asking your friends and neighbors about their experience with a landscaper. You might find one you haven't considered.
Local Ties
As mentioned, landscaping companies are heavily dependent on their reputation within the local community including the Chamber of Commerce and the Better Business Bureau.
In fact, word-of-mouth advertising through these organizations and previous clients is actually the best way for them to generate new business – especially on a commercial basis.
For that single reason, it strongly behooves a locally-based landscaping company to take good care of its customers.
HOA property managers looking for new landscaping company should look into these areas and also determine that the potential company fulfills all its requirements as pertains to licensing, bonding and insurance.
Portfolio
As the old adage goes, "The proof is in the pudding." In other words, a landscape company's portfolio of completed projects is one of the best indicators of their competence.
Any HOA tasked with making the decision about which landscaping company to hire should take the time and make the effort to physically visit the neighborhoods indicated and examine for themselves the quality of the completed landscaping work.
Specialties
There are a number of sub-specialties in the landscaping world. For example, two of the most common involve one above ground – lighting – and another below – namely drainage.
Each has its own intricacies and it is important to find a landscaping firm that is aware of and experienced in the areas you might need for your HOA property.
Lighting experts can significantly improve the aesthetics of an area with their expertise.  For safety and security, exterior lighting should be a priority in your landscaping estimate.
A landscaping company that is also an expert in drainage issues offers a far more practical benefit – namely by removing excess water that pools on the lawn, on walkways, other green spaces, and around the foundation of homes.
When one of the properties in your HOA has a water issue, having an experienced drainage expert already on call will go a long way to soothing fears of your residents.
Demeanor
Communication is key with your landscaping company.  You need to make sure they understand your vision but also are accessible if you have any questions or need clarification.
In addition, your landscaping contractor will come across as professional, knowledgeable and reliable.
It's important to have a dedicated account manager, someone who understands your needs, so you're not constantly leaving messages for different people.
The HOA Budget
As with any other contracting service, an HOA should expect to get what it pays for.
On the other hand, it does not do you or your landscaper a benefit if you're not correctly communicating what work you need to be done.
Make sure you get a detailed comprehensive estimate, so you can really compare apple to apples during the bidding process.
In other words, the association should not skimp on the basics included in a landscaping budget or they will probably end up spending even more on remedial work.
In addition, the HOA should budget some extra money for such things as emergency maintenance situations and derelict properties.
Hire The Best Partner
You need to make sure your landscaper has the experience and expertise you need for your HOA property.
Make a list of questions to ask prospective landscape management companies and ask about the process when working with a new HOA client.
You should feel comfortable with their answers and confident in hiring the very best landscaper for your property.
If you're looking for a landscaper who will work with you to create a unified vision for your HOA property, contact Twin Oaks Landscape today!
"We recommend Twin Oaks to any entity looking for a full-service, talented, and responsive provider."
Therese Mahoney
Secretary/Treasurer of Doral Creek Condominium Association, Ann Arbor, Michigan