June 21, 2016
Landscaping your yard involves a balance between green growing things and areas such as walkways and patios. These "hardscapes" can be designed using many different materials, each with its own benefits and drawbacks.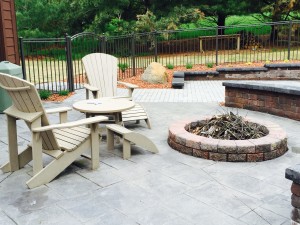 Pavers
No one particular material is used to make pavers. You might find these design elements made out of:
• Brick
• Concrete
• Flagstone
• Cobblestone
This variety of compositions gives you a wide selection when it comes to style, color, and size. Pavers can be shaped in many different fashions, so installing them can be a challenge for a nonprofessional. However, the stunning mix of colors that results makes an eye-catching addition to your yard.
Concrete
You can do pretty much anything with concrete. From perfectly square patios to textured poolside perimeters, concrete is a smart choice when you need a nonslip surface with a high level of durability. Its low cost means that you can create all kinds of landscaping elements without breaking the bank, and the ability to add aggregate or stamped designs allows you to make every style your own.
Natural Stone
This natural choice creates a harmonious look between your patio and the rest of your yard. Like brick, stone can be laid in a variety of patterns and be used for such versatile applications as garden paths and stepping stones. Locally quarried stone is cheaper since it doesn't have to be shipped far, but harder stones such as granite and marble will increase landscaping costs.
Tile
Though highly decorative with a unique style, tile is a tentative choice for patios in Michigan. Its glazed surface may become slippery in wet conditions and the material is less hard-wearing than other hardscaping options. On the other hand, tile can add a warm glow to your outdoor area, so using it in moderation may be viable.
Considering the different types of materials available before beginning your patio or hardscape project will help you envision the style that works best for your yard. Safety and durability are important when it comes to areas that will see a lot of use, and you want to choose something that will last for a long time without needing repair. Low maintenance, cost-effective materials abound so it shouldn't be difficult to find just the right fit for your outdoor designs.
"We recommend Twin Oaks to any entity looking for a full-service, talented, and responsive provider."
Therese Mahoney
Secretary/Treasurer of Doral Creek Condominium Association, Ann Arbor, Michigan