January 30, 2019
There's really just one thing that a retaining wall has to do: retain. That's easy, right? Anyone could do that! Well, hiring a retaining wall contractor would be a much simpler task if that were the case. The reality is that even something "simple" like a retaining wall requires a great deal of expertise.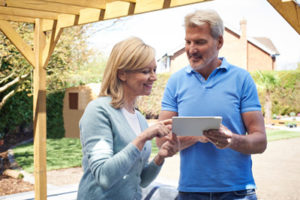 You may be wondering how to choose the right contractor for the job. Don't worry, you don't have to know a great deal about hardscaping — you just need to ask the right questions. Here are a few questions you should always ask a retaining wall contractor before you hire them.
Can You Give Me Proof Of Insurance?
This is one of the first questions you should ask. Legitimate contractors are required to have insurance to protect both you and their employees. This should include general liability insurance and workers compensation at least.
Any kind of hardscape job will involve some level of risk. This risk is low when the job is performed correctly, but sometimes things just go wrong! With insurance, you don't have to worry about how you're going to get recompense if something goes wrong with the job. You'll also avoid incurring any personal liability for job site injuries — unless you get fed up with your contractor and personally inflict those injuries. In that case, you're out of luck.
Can You Show Me Examples Of Your Work?
A contractor who isn't proud of their work is not a contractor you want to work with. In fact, you shouldn't even have to ask! They should be showing you pictures of their retaining walls like they were their children. A good retaining wall contractor will have examples of their previous jobs up on their website. The better ones will also have detailed descriptions of the job so you can get an idea of their process.
Who Are Your References?
A contractor with a history of quality work will be able to put you in touch with some of their previous clients. Contractors can put out great looking work while still being difficult to work with, so talking with some of their previous clients directly will allow you to get a sense of what you're in for. A contractor who is unwilling to give you any references at all or who skirts the question is likely hiding something — probably a history of shoddy workmanship.
What's The Best Material For This Job?
Give them a description of your job and ask what kind of material they would use. Some of the most popular material options are:
Wood
Concrete
Brick
Natural stones
The right material will depend on the specifics of the job. What you're really looking for here is their thought process. There isn't necessarily a "wrong" answer. What you want to watch out for are contractors who can't give you an answer at all.
You should also keep in mind that hardscaping is as much of an art as it is a science. You want something that gets the job done while also being pleasing to the eye.
Where Do You Source Your Material?
A retaining wall needs to withstand a lot of pressure in order to do its job, so it's important that your contractor use quality materials. A good contractor will be able to tell you where they get their materials and why they chose those distributors. Building a good working relationship with your supplier is essential in this business. The best contractors will often source their materials from local companies when possible.
What's The Timetable For This Job?
A good contractor will be able to give you an estimate of the timetable based on your description of the job. You're not necessarily looking to get exact dates out of this. You're just finding out whether or not the contractor is effective at planning and estimation — two essential skills for any hardscape contractor to have.
Listen to their thought process as they explain the details of the job and any potential setbacks to you. This will tell you everything you need to know about the quality of a contractor. If they can't even spitball you an estimate, they are either not all that experienced yet or don't care much for your business.
Once you decide to move forward with a contractor they'll give you a more detailed project bid with exact dates, whether they'll be hiring subcontractors, and how they plan to deal with potential setbacks. If you like what you see you can sign the contract and get on with the job.
Who Will My Main Point Of Contact Be?
Organization and communication are essential for a job like this. You should have a single point of contact for the job, whether it's the manager or someone else. Needing to communicate with several people just to get an answer to a simple question is a sure sign of disorganization. It's frustrating for you as the homeowner and it can impact the quality of the work. A good contractor will know this and assign you a dedicated point of contact for your job.
Can You Tell Me A Joke?
Okay, this one may not be as important as the rest, but it really is important to find a contractor who matches your personality. You may be working with this individual and their crew for weeks — possibly months depending on the size of the job — and you don't want someone who grinds your gears hanging out around your house every day. They don't necessarily have to be a comedian, but they should be professional, cordial, and easy to work with.
This is by no means a comprehensive list of questions you should ask your contractor — no one wants to sit here and read a list that long. It's enough to weed out most of the bad apples though. Use your head when shopping around for a contractor and you'll be just fine.
Are you looking for a retaining wall contractor in Ann Arbor? Look no further than Twin Oaks Landscape. Please, contact us today!
"We recommend Twin Oaks to any entity looking for a full-service, talented, and responsive provider."
Therese Mahoney
Secretary/Treasurer of Doral Creek Condominium Association, Ann Arbor, Michigan