June 26, 2018
There is nothing worse than having a property you can't use because you can't get to it. Compound that with an eroding hill makes your yard an unusable mess. Luckily this customer found Twin Oaks Landscape on the web and our hard-working professionals were able to come to the rescue.
Project Overview
A homeowner in Manchester, Michigan had a unique problem that required an equally unique solution. A big portion of the lawn was not able to be used at all. There was no way to get to it. This yard was at the bottom of a hill that was crumbling. There was an erosion issue in addition to a significant grade change. The challenge was to find a way to retain the eroding hill and provide a way to access the property below. And this had to be done while maintaining the natural feel of the landscape.
How you treat your slopes matters because there's always the potential for erosion. Every raindrop that falls on bare soil dislodges soil particles. As it gathers and runs down the slope, more soil particles are picked up. Multiply this by the duration of just one rainstorm and you quickly understand how easy it is to lose ground due to unchecked erosion.
Twin Oaks Landscape was able to come up with design to reinforce the hill by building a retaining wall will extremely natural looking stone to give an easygoing esthetic that blends with the property. Steps were added to give the homeowners' access to a previously inaccessible part of their property.
How It Was Made
Work on the project was started and completed in the Spring of 2018. Twin Oaks Landscape designed a retaining wall to contain the sliding soil. Boulders were used to create a 60' x 6' tall wall that included a stone step walkway. The massive rocks were placed over a limestone base and included a fabric separator between stone and soil. A drain was also placed in the wall to direct any water that does come through the back so that repeated freezing and thawing during harsh Michigan winters does not destroy this over time.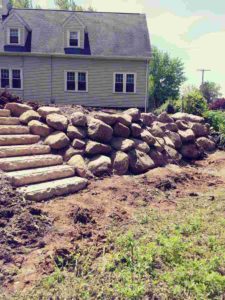 Materials used in construction included:
A mix of 2 foot to 4-foot boulders
Rosetta Dimensional steps
6a angular limestone
All of the work was done on site. Due to the size of the project and the weight of the materials used, a mini excavator to manipulate the boulders into position. This also caused little impact to surrounding area. Any lawn and landscape affected were easily restored upon completion of the project.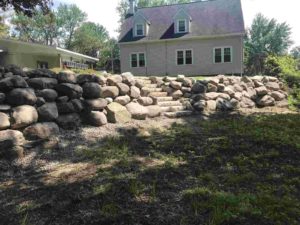 The customers are extremely happy with the project's results. They love job how the back of their house now feels, and the peace of mind they are given knowing they no longer need to worry about erosion. They also have access to a previously unusable part of their property.
Twin Oaks Landscape is proud to be able to give this family their yard back and to provide them with a beautiful, long-lasting solution to this plaguing problem on their property. If you have a portion of your backyard in the Ann Arbor area that isn't usable, contact Twin Oaks Landscape today and find a solution so you can take back your yard.
"We recommend Twin Oaks to any entity looking for a full-service, talented, and responsive provider."
Therese Mahoney
Secretary/Treasurer of Doral Creek Condominium Association, Ann Arbor, Michigan