February 27, 2019
As a homeowner, you'll want to eventually invest in home improvements that will not only add value to your property, but that will improve your enjoyment of it. One area that you should strongly consider focusing on is your outdoor area, which for many homeowners could do with a few improvements. Certain landscape projects will not only boost your home's curb appeal, but they'll also make your outdoor area more functional, allowing you to get the absolute most out of your outdoor space.
Landscape Projects
There are tons of potential landscape projects that your outdoor space could benefit from. The following are four landscape projects that will likely improve both function and form, and which will go a long way towards boosting your property value and increasing your ability to enjoy your home's outdoor space.
1. Patio
Building a patio is a great way to extend your indoor living space outdoors. Patios allow you to create small living areas where you and your family can sit outside and enjoy the sights of your landscape. Some homeowners build patios for their individual enjoyment, but they are also useful for entertainment purposes. If you enjoy having guests over, a patio space gives everyone a way to enjoy nice weather without having to stand around in the grass.
There are a few things you'll want to consider when planning a patio. First of all, a patio that extends directly from your home is often ideal. However, it's not always possible. You may need to build your patio away from your home, in which case you'll want to make sure that you also build a walkway that connects your patio to your home.
You will also want to make sure that the patio is big enough to be usable. If you're planning on building a patio that's just for you and your family and you're not necessarily planning on entertaining large groups of guests, then a smaller patio may be suitable. Even then, you'll want to make sure there's enough space to set up some furniture (such as a table and some chairs) and to have space to move around in.
What you use to build the patio in terms of material will depend on the style of your home. You can use everything from brick to concrete to wood to build your patio, but you'll want to make sure that whatever you choose, it compliments your overall aesthetic or else it's going to stick out like a sore thumb.
Last, but not least, make sure that you raise your patio off the ground. Doing so will allow you to build your patio despite grading that may not be uniform. It will also make your patio easier to maintain and will give your outdoor space more visual depth. If you do decide to install a raised patio, make sure that you build some steps and that you have proper lighting installed to ensure the safety of anyone that uses your patio at night.
2. Floral Softscape
Even if your landscape is covered in lush green grass, there's a chance that it's a bit lacking in color. One of the easiest ways to add color to your property is by planting flowers. You'll want to do a bit of research before you begin planting flowers to make sure your choices suit your climate. You should also pick a combination of perennials, annuals, and seasonal bulbs to provide some variety throughout the year.
Because there's a lot of flexibility in how you arrange your flowers, you can create beds in almost any shape and size, from small circles to large rectangles. Before you make your flower bed too large, make sure that you can easily reach the entire space so that you don't have a problem when it comes to watering or pruning. If it is too big, you may need to have a path go through the middle.
The size of your flowers will need to be taken into account as well. For example, if you're planting a bed of flowers up against your house, then the taller flowers will need to go in the back or else they'll tower over the shorter flowers, which defeats the purpose of having flowers since you won't be able to see most of them.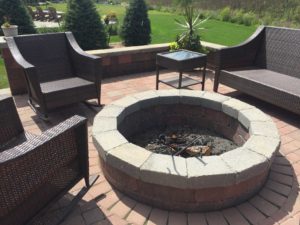 3. Firepit
A fire pit is a fantastic addition to an outdoor space. It makes your yard more usable, especially on chillier evenings. Just the appearance of a fire pit on your property makes your outdoor area feel more inviting and comfortable. There are a number of things you will need to take into consideration when building a firepit.
The most important thing to consider is placement. You'll want to make sure it's far enough from your house to eliminate any risk of fire. In fact, your community may have restrictions regarding how close to your house your fire pit can be. You will also need to build a space to house your firepit. You can't have it be too close to flammable objects (such as plantlife), after all. If you're using your firepit for personal or family enjoyment, then the space holding it should be around 8×10 feet. If you plan on hosting large get-togethers, you'll want to consider a larger space.
As for the material you should use for the space that surrounds your firepit, your best options are gravel, decomposed granite, concrete, stone, or tile hardscapes. You'll also want to consider the fire pit itself. You'll want to choose between gas and wood. While gas won't produce smoke like a wood fire pit, it will require more work to install since piping will need to be run from the main gas line to your fire pit.
4. Pergola
A pergola is a feature that adds a lot to any landscape. It can help provide shade to your deck or patio spaces, it can add visual height to create more of a dynamic aesthetic, and it can be used to string up lights in your backyard. Of course, pergolas also offer architectural interest as well. When deciding to add a pergola to your landscape, make sure you identify how you can benefit from it. You don't want to stick a pergola in the middle of the yard, after all. It will just look out of place if you do this. However, building one next to your pool or over your deck can help improve these spaces.
Landscape Maintenance
While these are all great ways to improve your landscape, it's important that you keep landscape maintenance in mind as well. You will want to make sure that your landscape is properly irrigated, especially if you're adding floral elements to your property. A reputable landscaping contractor will take into account the features you want to add to your landscape and design a unique irrigation system that suits your specific needs.
If you're interested in improving your landscape or would like to know more about our irrigation and landscape maintenance services throughout Ann Arbor, MI, then be sure to contact us at Twin Oaks Landscape today.
"We recommend Twin Oaks to any entity looking for a full-service, talented, and responsive provider."
Therese Mahoney
Secretary/Treasurer of Doral Creek Condominium Association, Ann Arbor, Michigan