August 19, 2014
Everyone knows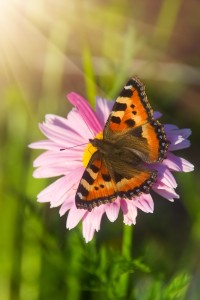 that flowers add beauty, color, form and structure to gardens and landscaping. But there are many flowers and blooming plants that offer more than just a pretty face.
Food Source for Wildlife
Several blooms and blossoms do double duty by offering a food source for animals and insects. Bee Balm, columbine, delphinium, hollyhock and butterfly bush are all favorite food sources for hummingbirds.
Butterflies are attracted to blossoms that are red, yellow, pink, orange and purple. They prefer flowers that have short flower tubes and are clustered with a flat top. Daffodils, ornamental allium, candytuft, lantana and of course, the butterfly bush make good butterfly magnets. Don't forget the flowers that caterpillars love as well: milkweed, wisteria and passion flower, to name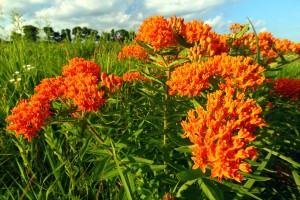 a few. Butterfly caterpillars are not invasive, nor are they destructive like moth caterpillars can be.
And finally, honeybees will work hard pollinating your garden if you give them a reason to stay. Bees need both pollen and nectar, and their good eyesight allows them to look for the blue, purple, white and yellow flowers that have luscious amounts of it. Native flowers will work best for bees. Keep those busy pollinators happy by planting aster, black-eyed Susan, lupine and purple coneflower, and your garden will thank you for it.
Ground Erosion
It doesn't take much rain to wash away carefully located berms and topsoil. A heavy storm can wash soil away damaging foundations, driveways and sidewalks. All shrubs, trees and plants help hold soil in place. Flowers do too. Annuals will only have shallow roots that will just last until a hard frost or freeze. But many perennials have sturdy root systems that will come back year after year.
Some perennials and shrubs to try are creeping phlox, potentilla, daylilies and crown vetch. There are also many blooming types of groundcover which will keep your soil in place.
Fight Pests
Some plants are pretty to people, but they are stinky or even toxic to unwanted pests. Chrysanthemums produce a chemical that is harmless to people but toxic to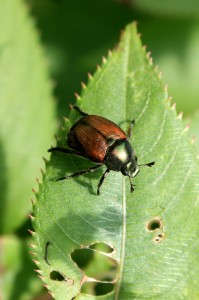 Japanese beetles and nematodes. They can be planted around vegetable gardens to repel hungry garden worms.
Lavender is heavenly to humans and repulsive to several pesky insects. The scent of the lavender blossom repels fleas, moths and mosquitoes. Plant several around outdoor seating areas.
And the humble marigold is a work horse in the vegetable garden. The scented varieties deter whiteflies from attacking your tomatoes and keep nematodes away from the roots of your other plants.
Edible
Many flowers are not just pretty to look at, they are also edible. Most blossoms are used in salads. And several are crushed for tea or used to add spices and savory flavorings to dishes. Some flowers that add taste are allium, pansy, bachelor's button, bee balm and the marigold again. Nasturtiums add a peppery touch to salads, and many cooks use fresh basil leaves, but the flowers are edible as well.
Flowers bring vibrant color and a cohesive design to many homes and landscapes. But so many flowering plants are more than just "lawn candy." Brighten your day with a beautiful view and put those flowers to work.
"We recommend Twin Oaks to any entity looking for a full-service, talented, and responsive provider."
Therese Mahoney
Secretary/Treasurer of Doral Creek Condominium Association, Ann Arbor, Michigan