May 1, 2018
Most Michiganders like to head outside when the weather allows. But an insufficient patio space can put a damper on plans to enjoy outdoor living. That's why these homeowners turned to the team at Twin Oaks Landscape to create an updated paver patio space for their home in the Huron Farms subdivision in Dexter Michigan.
Project Overview
Twin Oaks Landscape was tasked to build a brick paver patio beneath the home's existing deck. The project was a referral from an existing client.
The homeowners recognized they did not have good usable space under their deck and challenged Twin Oaks to improve upon the existing design. To successfully create the paver patio, we needed to marry the existing deck with the lower patio and walkout.
How It Was Made
Work on the patio was started and completed in the Autumn of 2016. Twin Oaks Landscape used more than 500 square feet of pavers to create a much more usable patio space underneath an existing second story deck.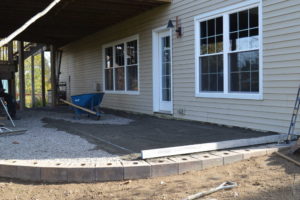 Materials used in construction included:
Fendt Stonegate wall block with cap
Fendt Harborstone pavers, all Walnut Blend color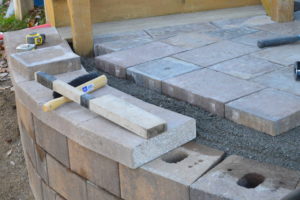 Twins Oaks recommended expanding the patio and going with a curved design to give it more appeal. Curves are a more natural shape and lead the eye.
The patio was also elevated. This would help create a level surface above the sloped backyard, and allow for additional living space.
The project construction process included:
Creating the layout
Excavating
Laying layers of gravel and sand
Adding edging
Fixing the patio height
Cutting Pavers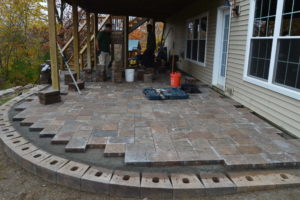 This was a walkout location, which means all of the material needed to be brought behind the house, down the grade.  To remedy this, Dingo compact track utility loaders were used to minimize the impact on the lawn and irrigation.
Tires from trucks could have caused major damage. This solution allowed us to easy restore the lawn and landscape upon completion of the project.
The customers are extremely happy with the job and how the back of their house now feels. Twin Oaks Landscape is proud to be part of a project that helps a family more easily enjoy the great outdoors.
Final Patio
"We recommend Twin Oaks to any entity looking for a full-service, talented, and responsive provider."
Therese Mahoney
Secretary/Treasurer of Doral Creek Condominium Association, Ann Arbor, Michigan