May 20, 2018
If you're investing in your property's landscape to help improve its curb appeal and its overall function, then one type of feature that you will most likely need to implement is a walkway. In fact, depending on the size of your property, you may want to have several walkways that wind through your landscape.
Walkways make it easier to traverse your property without damaging your landscape and without risking injury. They can also be used to direct visitors to entrances or to specific features in your landscape, such as pools, ponds, decks, gazebos, or patios.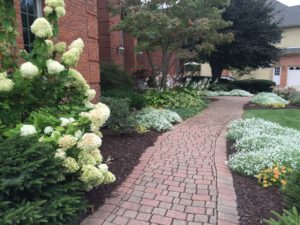 Adding Walkways to Your Landscape
The following are a number of tips for building walkways throughout your landscape to help make it easier to walk through while also adding visual balance and depth to the overall landscape design:
Make sure the walkways are functional – Your main priority should be to make sure your walkways are functional. This means making sure that the walkways are wide enough to walk comfortably without having to concentrate on staying on the path. Generally speaking, walkways should be around four to six feet wide — which should be wide enough for two people to walk side-by-side. Of course, you may not always have the luxury of building your walkway as wide as you want it. In this case, at least try tapering it by the entrance to give it the perception of being wider.
Curve your walkways – Straight walkways often work fine, especially if it's just a straight path from the sidewalk to your entrance. However, when installing walkways throughout your landscape, consider curving the walkways. This provides a less rigid and more natural look that will compliment the landscape better, especially since your landscape features probably weren't implemented in a grid-like system. However, be careful not to overdo the curves. You don't want your walkways to curve so much that they are forcing people to walk the long way around to their destination.
Use steps – If your landscape isn't completely flat, then you'll want to incorporate steps wherever there is a change in elevation in the property. While you could go without steps and just have your walkways rise and fall with the height of the landscape, steps make it much easier to traverse (unless you need to make the walkways handicap accessible, of course). Additionally, steps help to add a sharp visual element to what's probably a softer landscape, thereby adding some much needed visual contrast. Steps also work as an effective and functional transition from your walkways to raised features, such as decks or pools. One thing to keep in mind is the length between steps. Cluster together several steps at a time so that they are easier to use. Otherwise, people may have an awkward time stepping up or down your walkway.
Use walkways to define your landscape – Without walkways, not only can it be more of a hassle (and in some cases, more of a challenge) to walk to different features in your landscape, whether it be a pool, a gazebo, or a garden, to name a few possibilities, but it can make your landscape have less shape. Walkways can help to define your landscape by separating different features, which in turn helps to bring emphasis to each feature, even if it's just a bed of flowers. This helps make the landscape look less cluttered and more organized as well.
Surround your structures with walkways – All structures, such as your building, a patio or your pool, should have a walkway that leads to it and around it. Not only do you want to make sure members of your household or guests use walkways to get to these features so that they don't trample your landscape, but they also work as visual elements that help soften the transition of your landscape to your structures. Without them, the visual transition can be quite harsh, resulting in too much of a contrast between the aesthetic components of your property.
Add lighting to your walkways – Lighting your walkways is an absolute must. Not only does this help improve your curb appeal at night, but it will increase the safety and security of your property. People are going to trip over the steps or walk off of the walkways without proper lighting — and you'll want to make sure your property is secure by being able to see who is using your walkways. There are many ways that you can add lighting to your walkways depending on the surrounding aesthetic. Popular methods include lining the walkway with path lights, which provide enough light to the walkway without flooding the area with too much light. LED step lights, which can be installed directly into the steps, are an elegant option as well. Similar LED lights can be installed into retaining walls that may run alongside your walkways.
Connect your walkways – You may have several different walkways winding throughout your property. You should try to connect them to provide visual harmony to your entire landscape. Connecting them will make your property more functional as well.

Types of Walkways
Walkways are going to stand out, which means that their aesthetic is very important to the overall curb appeal of your property. You'll want to consider the landscape that they are running through as well as the different features that they are leading to when deciding on a material to use to build your walkways. The following are a few examples of the different types of walkways that you can build:
Brick – Brick can be laid down in a paver walkway, which allows each brick to fit securely but without being adhered to one another. Brick offers a somewhat traditional and rustic look that can add some charm to your property. Because of how paver walkways are laid down, brick can be used in a variety of patterns, including herringbone.
Gravel – Gravel or crushed stone provides texture to the landscape and is extremely functional as well. This is because it's very safe as a result of the grip it provides and is a fast-draining surface, which means puddles won't form as a result of rainfall. It's also very low-cost and easy to install. The only thing you'll really have to worry about is edging, which is needed to help keep the gravel or crushed stone from straying from the path.
Stone – There are all kinds of stone that you can use for your walkways. For example, you can use flagstones, which can be laid loose into a path of sand or secured in concrete using mortar joints. This type of stone walkway provides a more natural look. Or you can use stone sections built to fit together as a more defined walkway, which provides a more elegant look.
Walkways and steps may seem like a more functional element than anything else, but the material that you choose and where you choose to place them throughout your property will have a big effect on the success of your landscape design. For more information about adding walkways to your commercial or residential property, be sure to contact us at Twin Oaks Landscape in Ann Arbor, MI today.
"We recommend Twin Oaks to any entity looking for a full-service, talented, and responsive provider."
Therese Mahoney
Secretary/Treasurer of Doral Creek Condominium Association, Ann Arbor, Michigan