March 28, 2014
When planning to build a walkway, it's easy to get sidetracked and even overwhelmed by the sheer amount of styles, colors and materials now available to homeowners for building materials. In general, the type of walkway that's best for your home depends on your own personal style and the style of your home. Understanding your choices can help you make the best choice for your budget and desired look.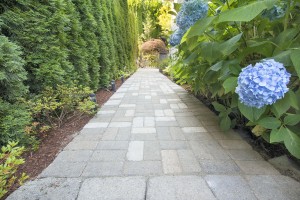 Pavers are made from concrete or old brick and are another economical option for homeowners wanting to install their own walkway, especially when installed using a sand bed. However, sand beds do allow for some shifting and can allow weeds to grow between each piece. To combat movement and weeds, pavers can be installed in the mortar, though the price per square foot will increase.
Concrete
Concrete is one of the most common and economical choices for walkway design. The advantage of concrete is that it can be poured in various shapes and sizes, allowing a great deal of customization for a homeowner. Advances in concrete also allow the ability to further customize through choosing colored or stamped concrete. However, keep in mind that adding these options can significantly increase the costs of your project.
Solid Natural Stone
Another popular option for walkway construction is solid natural stone. Natural stone is pricier than many other options but is also one of the most durable. Beyond durability, natural stone also requires little maintenance. Like concrete, natural stone provides a wide range of customization from colors to textures by choosing different types of stone such as limestone, slate, sandstone, flagstone or granite. Prices will vary significantly depending on the type of stone chosen as well as how difficult it is to cut the stone. Installation costs can vary, but typically include embedding the stone in the mortar or a sand bed.
Brick is another economical option, especially if you can find a source for reclaimed bricks. A brick walkway can often be done directly by the homeowner, which can significantly decrease installation costs. Bricks can provide different aesthetic value depending on how the brick is laid, the pattern and the color of the brick, from more of a country, feel to a high-end modern look.
Gravel
Gravel is another simple and economical option for walkways around the home. Gravel can be poured into almost any shape while giving a natural or country feel to a yard landscape. However, keep in mind that gravel can be moved out of place easily. If you have a dog that likes to dig or a child that likes to move or throw rocks, gravel may not be the best option for you.
Take accurate measurements before entering a home improvement store or landscape supply store to ensure you can both accurately price the cost of your walkway, as well as purchase the correct amount of materials. When in doubt, work with a contractor or landscape design professional to ensure you'll have a walkway that you'll not only enjoy, but will last for many seasons to come.
"We recommend Twin Oaks to any entity looking for a full-service, talented, and responsive provider."
Therese Mahoney
Secretary/Treasurer of Doral Creek Condominium Association, Ann Arbor, Michigan