April 3, 2016
Stone is a beautiful, natural building material that enhances many garden hardscapes and landscapes with its solid, practical good looks. When stone is installed professionally, its longevity and usefulness in the landscape cannot be surpassed; there are several reasons why this is the case. Here are five of the most valid reasons to use natural stone in your landscape.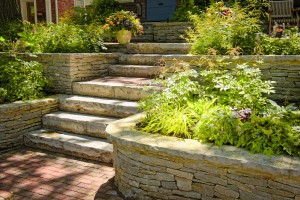 Stone Lasts Forever
1. Longevity: Stone lasts longer than any other type of building material, with natural resistance to rain, freezing temperatures and heat. Manufactured stones, bricks and other types of manmade materials can be prone to cracking, splitting and chipping, but stone lasts indefinitely in the four-season climate of Ann Arbor MI.
A Natural Beauty
2. Beauty: Stone looks natural and easily fits into any landscape without looking too perfect or newly installed. Locally obtained stone will match its surroundings and provide authentic good looks. Natural imperfections in stone add texture and interest, and as the stone ages, organic materials will grow on the stone, adding color and patina to the stones to help them blend into the landscape even more. You will see colorful textures from:
• Moss
• Lichen
• Algae
Although they can provide beauty and texture, it is important to remove moss, lichen and algae from walking surfaces that may become slippery when they are present.
No Wet Feet
3. Drainage: Stone doesn't fit perfectly together like bricks or man-made materials, so it will allow for better drainage during rainy or snowy weather in Ann Arbor MI. Whether stone is lining a path or creating a planting bed, water can escape from many cracks and crevices and prevent muddy shoes or your plant's roots from sitting in pooled water.
Rock Garden Plantings
4. Planting Space: The cracks and crevices between natural stone can allow for interesting rock garden plants to be placed between them. Many rock garden favorites or small herbs can grow with minimal soil in the crevices of stone walls or between paving stones on a path – forming a soft carpet. These types of plants thrive in dry soils and the heat that is absorbed by stone. Planting in the crevices of stone can provide your hardscapes with a long-established look that is both elegant and charming.
Solid Structures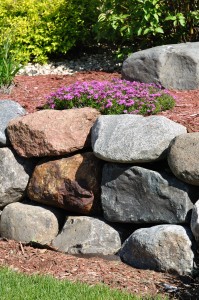 5. Stability: When properly placed, stone will not shift, move or lean. It is important for the base of the stone path, wall or garden bed to be properly supported, but when it is professionally built it will be strong enough for the heavy traffic of many feet and will support a large volume of soil and moisture as well.
Adding stone hardscapes to your garden will help you create a landscaping structure that will define your home and give it functional beauty that will serve your family for years to come. Our professional landscapers offer a wide range of hardscaping features with natural stone that will enhance your home or business and give it a polished, professional look.
Get your yard looking its absolute best with custom landscaping solutions from Twin Oaks. Find us online at https://www.twinoakslandscape.biz/, visit us in Ann Arbor, MI at 4100 South Maple Road, or call us at (734) 213-6911.
"We recommend Twin Oaks to any entity looking for a full-service, talented, and responsive provider."
Therese Mahoney
Secretary/Treasurer of Doral Creek Condominium Association, Ann Arbor, Michigan