June 30, 2018
If you're price shopping for quotes on a tree trimming service, your search efforts could go on and on for days. Tree services are everywhere. Price quotes will vary, but chances are, you might not know how much is too much to spend on tree maintenance.

How will you answer the question, "is the cost of tree trimming really worth the investment?"
Wouldn't it be a good idea to simply do it yourself and save a little money along the way? Up front, it may seem like quite a hefty charge to have your tree trimmed or cut back, but with a true break down how tree trimming estimates are determined, you may find that the cost is far more reasonable than the cost of doing nothing.
How are Tree Trimming Estimates Determined?
The first thing to remember when considering your tree trimming needs is the reality that tree trimming is not a one-size-fits-all job. In fact, the service actually includes multiple different techniques or methods, each of which will incur varying costs.
From-the-Ground trimming can be done with a worker's feet firmly planted on the ground, while chainsaws, pole-operated chainsaws, and other tools are utilized to complete the work.
Technical Tree Trimming requires the use of ladders, ropes, and harnesses, and/or bucket trucks to reach the affected branches and limbs in question.
Tree Shearing or Pruning requires a proper understanding of tree growth and health, and shaping, but may not necessarily involve gas-powered equipment and heavy tools. Sometimes, heavy-duty shears or clippers are enough to get the job done properly.
But, no matter the method, tree trimming is not a job for the unskilled or novice landscaper. There are right and wrong ways to trim a tree; a safe and an unsafe scenario. And, doing nothing and avoiding the job could be costlier to your pocketbook in the end than a single, upfront bill ever would be.
What Factors Affect a Tree Trimming Bid?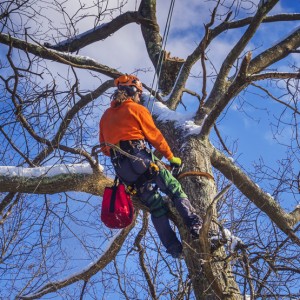 Accessibility- How difficult is it to access the tree and individual branches that must be trimmed? Is there a fence on the property that would prohibit a bucket truck from accessing the job site? Is there any pre-existing landscaping or architecture that would limit access to the location without disturbing the site? Are the electrical wires, poles or other structures that could interfere with the work at hand? Each of those factors, as well as others, can make a tree trimming job more complex and time-consuming.
The Size of the Job-  Your specific needs will impact that tree trim estimate. Most companies will not have a flat-rate service fee for tree trimming jobs. Some jobs are more extensive than others, may involve a variety of tree trimming methods, and could require the use of multiple service technicians to ensure safety, proficiency and effectiveness. If heavy equipment, such as bucket trucks and chainsaws, are needed for the job, then workers must retain a certain level of skill and competency to operate these tools. There may be specific insurance requirements that the company must follow in order to guarantee worker safety. The more demanding the work, the higher the cost.
Licenses, Certifications, and Liability­- Not every tree trimming service will employ fully trained, licensed and certified tree trimming experts to handle these specialized service demands. On-the-job training does not necessarily equal quality and safety of service. Companies that are insured will be held liable if a worker is injured while on the job. Services that do not cover Worker's Compensation benefits could end up being a financial liability to you in the event that a personal injury occurs while a worker is on your property. What would happen if your personal property is damaged while a tree trimmer is on the job? Who would cover the costs if an accident damaged your personal property or that of your neighbors? Companies that cover all of these additional security measures for your protection, as well as theirs, may cost more up front, but if an unfortunate situation arose, you'd be thankful to have that guarantee to protect you and your property.
Safety Gear and Training- It is important that any technician performing general tree maintenance on your property do so safely and effectively. Hard hats, proper ear and eye protection, steel toed work boots, high-quality work gloves, and cut-resistant chainsaw chaps are all essential uniform elements for any worker. Although you aren't paying for these items up front, the company you hire may provide those items for their workers to ensure their safety on every job. If that's the case, your tree trimming estimate may reflect some of the costs that the service provider will incur.
The Danger of Doing Nothing
If you think that your tree isn't that bad, or that you can hold off trimming those branches back until next year, you might find yourself deeply regretting that decision. Trees can be very vulnerable to the many stresses caused by nature, weather and lifespan. Dead limbs or branches can not only be hazardous to surrounding property and pedestrians walking in the vicinity, but they can also become aesthetic eyesores that devalue your home.
There are numerous naturally occurring conditions that could damage your trees or create potentially dangerous conditions for your surrounding property and pedestrians walking around the grounds.
Wind Damage – If you have a tree that has dead or dying branches, heavy windstorms could cause those limbs to fall, damaging property underneath or putting pedestrians at risk.
Lightning Strikes – Especially tall trees are susceptible to lightning strikes. This could damage the protective bark on the trunk, resulting in broken limbs, or even cause a tree to split. If this happens, it's important to have the tree inspected by a professional to ensure the tree is safe to remain in place afterward.
Insect Damage – Various insects and other small creatures can damage your trees and create unforeseen hazards that you may not notice until it's too late. Aphids, certain beetles, Emerald Ash Borers, and even some types of moths can cause significant damage to trees. If ignored, these insects could cause trees to become diseased or die. In any case, when trees become brittle and weak from a lack of proper nutrients, they are at risk of falling. Regular tree maintenance from professionals will help guard against harmful insects and the proper steps early on could help prevent a catastrophe from occurring.
Neighbor Disputes – So, this one may not be an effect of Mother Nature, but it is a reality to be aware of. Dead or damaged trees are often the cause of neighborhood tension, arguments, and legal disputes. Trees that border property lines are often dropping broken branches, twigs and other debris on neighboring properties, putting homes vehicles, and other private property at risk of damage. Trimming back dead branches before they cause problems is a great way to help keep the peace between you and your neighbors. Plus, it'll help stop any complaining about those dead, unattractive trees that nobody in the neighborhood wants to look at.
Making the Call to the Professionals
Deciding to call the professionals for any tree maintenance needs is a wise decision that property owners can be confident in making. Trained professionals understand the risks, own the proper safety equipment, and have the experience needed to get the job done right. And, best of all, they're prepared if something would go wrong. That is money well spent.
If you need help with regular tree maintenance, or if you have a one-time trimming need that should be addressed, Twin Oaks Landscape can help. Our experts understand the difficulties and dangers of tree trimming but have the experience necessary to get the job done right. In the end, you'll have healthy, beautiful trees that accent your property perfectly and you'll rest assured knowing that all safety responsibility rests on them. You can just sit back and watch as the professionals get to work. Call today (734) 213-6911 for more information or to schedule a consultation.
"We recommend Twin Oaks to any entity looking for a full-service, talented, and responsive provider."
Therese Mahoney
Secretary/Treasurer of Doral Creek Condominium Association, Ann Arbor, Michigan