September 21, 2018
Not all commercial snow removal companies are created equal. There are so many to choose from. But your business depends on you choosing the best commercial snow removal services to meet your needs. Before hiring a commercial snow removal company, it's important to be informed so there are no surprises when the first snow storm hits.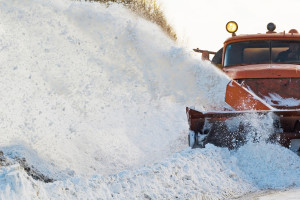 Research now to save you time later when hiring snow removal services. Here are some helpful tips to help you find the right company to clear snow and ice for you this winter.
Turnaround Time
Your first concern is most likely how quickly they'll be able to get to your property after it snows. What's the company's turnaround time? What's the soonest they can get to work after it snows? Quick, efficient, and thorough snow removal is essential to implementing good and smart business practices in the winter, especially if you happen to own a commercial property. You're responsible for ensuring the safety of everyone who uses your property and maintaining the exterior appeal of it to continue attracting potential customers.
Services Provided
Before you sign that contract, remember that not all snow removal companies provide exactly the same menu of services. Make sure to ask what they will and won't do for your property after a snowstorm. In addition to the parking lots, do they clear sidewalks and entrances? Do they spray deicers? Do they haul any snow? Ask questions about what is provided so you know exactly what you're getting.
Insurance
Even though the snow removal business's employees should have proper training on how to work in treacherous weather, you want to make sure the company is properly insured in the case of an accident.
If you choose to work with someone who simply hooks up a plow to their truck, keep in mind that they may not be correctly insured. Working with someone who is not insured puts your business at risk, so make sure they provide you with their proof of insurance, which should include liability coverage and workers' compensation.
Check Their Equipment
Having the latest high-tech snow removal equipment is another essential factor that you need to take into consideration when looking for a renowned snow removal company in your area. This is a testament to how much experience the company has as well as the fact that they take great pride in their work and are fully capable of delivering the best possible results for you. The industry standard is that all professional snow removal companies should not only perform proper routine maintenance on all of their machinery, but they're also responsible for updating their equipment and replacing pieces that are well beyond the point of repair on a regular basis. This guarantees the quality and safety of their work.
Safety
One of the perks of employing an experienced fully licensed, and insured local snow removal company is that they usually implement industry-standard safety measures into their regular business practices. The combination of snow, sleet, wet conditions, and low visibility if the work is being performed in the evening or an extremely foggy condition is a recipe for potential disaster. That said, as long as the company you hire takes all of the appropriate and necessary safety precautions prior to commencing their work; there's absolutely no reason why they shouldn't be able to complete the job safely, competently, and efficiently. Of course, even in the best conditions, accidents can still happen and when they do, preparation is imperative. Make sure the snow removal company you hire is always prepared for any emergencies that might take place onsite.
Questions to Ask
Who choosing a snow removal contractor it is important to ascertain their reliability, experience, and plan for your property. It is crucial to ask the right questions, such as:
How long has the service provider been in business?
Are their specific teams assigned to your property?
How do they treat and control the ice?
What size of properties can you handle?
What equipment do you use?
Is there planning that takes place before a storm?
How is the cost calculated?
Do you clear all entryways and sidewalks?
What specific services does the facility require?
Does the contract clearly state these services?
Can the contractor provide comparable references?
Does the contractor have the necessary equipment and employees to manage the site?
If you're talking to a company that can't answer these questions, consider it a red flag and look elsewhere. Based on a contractor's answers, pricing points, and liability considerations, you should be able to easily and confidently choose the right commercial snow removal contractor for your job.
Twin Oaks Landscape has the experience you need this winter. Having a knowledgeable snow removal contractor at your side now will bring you peace of mind once the snow begins to fly. Contact Twin Oaks today to find out how our services will work for you.
"We recommend Twin Oaks to any entity looking for a full-service, talented, and responsive provider."
Therese Mahoney
Secretary/Treasurer of Doral Creek Condominium Association, Ann Arbor, Michigan