February 20, 2019
There are a lot of different ways that you can improve your property's exterior space, especially if you're looking for a landscape project to improve your property value as well as improve the overall function of your outdoor area. One way that you can do this is by extending your living space outside by building a patio.
The Benefits of Building a Small Patio Area
The following are just a few of the reasons why you should consider building a patio outside of your home:
Patios are great for entertaining – If you like having people over, then a patio is a great addition to your home. It essentially opens up your outdoor area to your guests, who may have been limited to your home's interior otherwise. Entertaining outside can great fun for everyone involved.
Patios help provide more living space – A patio will give you the space to set up some outdoor living furniture, from chairs and couches to tables and more. You'll be able to enjoy meals with your family outside or simply find some peace and quiet by enjoying a quiet moment alone.
Patios will increase your curb appeal – The addition of a patio can help add to the overall aesthetic of your outdoor space, especially if the materials you use complement the style of your house as well as the outdoor design elements. It's also effective as a transitional element to bridge your interior and exterior together.
Patios will allow you to use your backyard more often – If you have a beautiful outdoor space that you don't get much use out of, a patio will help change that. You'll have more reason to spend time outdoors, which means you'll get the chance to enjoy your landscape more.
Patios are easy to maintain – Keeping a patio clean is relatively easy. You can just sweep occasionally and once in a while wash it down to keep it clean and in good condition. That's all it really takes as long as it was properly installed.
Patios increase property value – The previously listed benefits of building a patio all combine to contribute to an increase in your property value. If you're looking for a project that will provide a good ROI (return on investment), you can't go wrong with a patio.
Types of Patio Areas You Can Build
There are a lot of ways that you can build a patio on your property. You can build it up against your home, literally extending your living space outdoors, or you can build it away from your home and connect it via a walkway. There are many materials to choose from as well. The following are just a few of the more common patio material options:
Concrete – Concrete is extremely durable. It's also relatively easy to build a concrete patio. Additionally, concrete is one of the most affordable options, which is why it's one of the most popular. For the most part, it's also easy to maintain, although you may need to reapply a coating to protect its color every few years. The real drawback of using concrete is that it's not as visually exciting as other materials.
Brick – Brick provides an old world, traditional look that can be quite charming. There's a lot of texture that's added to your outdoor design with the use of brick as well. However, it's not without its drawbacks. Brick tends to be more porous than other materials, which means that it retains moisture more easily. This can lead to cracks during freezing weather, which, in turn, would require you to replace bricks that are damaged. Moss can grow between bricks as well, which means more maintenance is needed to keep brick patios in good condition.
Pavers – Pavers give you a lot of flexibility in terms of building a patio that fits your unique style. This is because pavers are available in all kinds of shapes, patterns, and colors. You can even create circular patterns in your patio using pavers. Pavers are a great alternative to brick if you want a look that's somewhat similar and that contributes an interesting texture to your landscape design.
Natural stone – If you want your patio to truly compliment your outdoor area, then you can't go wrong with natural stone. There are many natural stone choices, including limestone, slate, and flagstone. Natural stone adds a touch of elegance to your patio. However, it takes a long time to install and can be quite expensive as a result of numerous factors.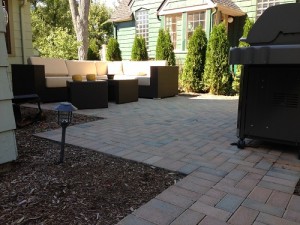 Choosing a Reputable Contractor
Making sure you work with a reputable contractor is essential if you want to end up with a high-quality patio. Less reputable contractors may not only do a poor job constructing a patio, but they may also cut corners on materials and construction in order to save money. The following are a few tips to help you identify a reputable contractor that you can trust and depend on:
Ask about license – Never trust a contractor that's working without a license. Licensing ensures that they know what they're doing and are familiar with local rules and regulations.
Ask about insurance – Make sure the contractor is fully insured so that you don't end up being liable for any injuries or damages that occur on your property.
Check online reviews – One of the easiest ways to gauge the reputation of a contractor is by reading online reviews left by previous customers. Reputable contractors will often have testimonial or review sections on their site, but you should also be able to find reviews on sites like Angie's List or Yelp.
Check previous work – A good contractor will have pictures up of previous work that they've done. This is a good way to see whether their work matches what you're looking for. If they don't have pictures of previous work online, ask them directly. If they don't have any pictures available, you may want to think twice about working with them.
Ask for references – A contractor that's trustworthy and reliable will have plenty of references that they will be more than happy to share with you. A contractor with no references either lacks experience or has too many unhappy customers.
Look for friendly and clear communication – Even if everything else checks out, pay attention to how the contractor speaks with you. If they are vague and unfriendly, you can expect to have issues over the course of the project. Look for someone who is helpful, informative, friendly, and respectful when speaking to you.
Contact Us At Twin Oaks Landscape Today
Here at Twin Oaks Landscape, we have a reputation as one of the best landscape and hardscape contractors throughout Ann Arbor, MI. For information about our patio construction services, be sure to contact us at Twin Oaks Landscape today.
"We recommend Twin Oaks to any entity looking for a full-service, talented, and responsive provider."
Therese Mahoney
Secretary/Treasurer of Doral Creek Condominium Association, Ann Arbor, Michigan