The Benefits of Hiring Patio Maintenance Professionals
A patio can be the most beautiful highlight of your landscape or a graveyard of pavers. Many homeowners fantasize about walking effortlessly out to bask in the sunlight on their patio. What many don't think about the patio maintenance that keeps it beautiful all year long. When it is time for maintenance, some homeowners are left scratching his head. Here is a summary of common issues that, if left ignored, will make your patio an ugly mess.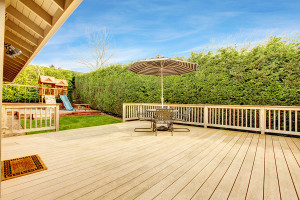 UNEVEN OR COLLASPED STONES – Over time, weather can adversely affect the settling of your stones. Improper drainage, excess rainfall or simply a bad installation could cause this issue. A patio maintenance professional will pull the affected stones up and check to see if the crushed stone footing is at the specified depth of 4″ to 6″, depending on soil type. The stones are re-laid and seated using plate tamper. Any landscape professional that specializes in patio maintenance will have one. They will then assess any drainage issues and correct them if necessary. These are difficult tasks that should be left up to professionals.
DULL, DIRTY AND MOLDY – This is one of the most common issues due to seasonal changes and neglect. Just like any construction that stays outside, patio stones will eventually become faded and dirty. It is important to clean and reseal every two to three years on average. If you live in areas that have a lot of moisture in the air like Ann Arbor MI, you may need to have this done every one to two years. To clean you need to apply a good acid based detergent and two coats of sealant. You have three common finishes you can choose from. One is a "wet and shiny" look, a "dry and dull' look or a "matte" look.
MISSING JOINT MATERIAL AND WEEDS – This is another common issue, especially for older construction that used concrete sand. Over a period of time and season changes, joint material will settle, run off due to excessive rain or blow away. When this occurs you will need to thoroughly clean the joints. This can be a tedious and time consuming task that is recommended for the landscape professionals that specialize in maintenance. After the joints are cleaned the stones will be cleaned with an acid based detergent. Instead of concrete sand, a Polymeric Joint Sand is uses. This type of sand basically glues the sand together with the joint but allows flexibility during climate changes. This is key for a lasting joints and prevent the growth of weeds through the joints.
As you can see, a beautiful patio requires skilled maintenance. A lot of DIY homeowners can tackle this head on but having a skilled landscape professional in or around the Ann Arbor MI that already has the product, tools and skills would work in your favor. You get all the benefits without all the work and can be enjoying your fresh and clean patio in no time.
Get your yard looking its absolute best with custom landscaping solutions from Twin Oaks. Find us online at https://www.twinoakslandscape.biz/, visit us in Ann Arbor, MI at 4100 South Maple Road, or call us at (734) 213-6911.