January 10, 2019
Hardscaping is a great way to add function to your backyard as well as help to balance out the aesthetic of the space, thereby increasing your curb appeal. Unfortunately, a lot of homeowners are under the misconception that they need to have a substantial amount of space in order to add hardscaping. However, hardscaping isn't limited to outdoor pools and gazebos–there are plenty of hardscape features that you can add even if you don't have the biggest backyard. The following are a few hardscaping ideas that you could implement in your small backyard:
1. Use one paving material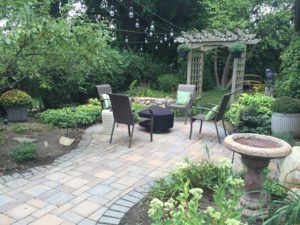 Homeowners often use different paving materials for different parts of their yard, such as walkways and patios. However, choosing different paving materials may not be the best way to go if you have a smaller space to work with. While you might be trying to add a bit of variety in the visual sense, what will most likely happen is that the use of different paving materials will just make what little space you have look cluttered. To avoid this, pick one paving material and stick with it.
2. Keep it open
You might be tempted to use fencing to divide some of your spaces. For example, in larger yards, people will often fence off an area around their garden or build a fence around their patio space. Although this can help provide a larger yard with a more finished look, it won't have the same effect in a smaller yard. In a smaller yard, it will just make your space feel smaller and more cramped. Avoid using fencing unless it's along the outskirts of your yard to help make your smaller space feel as open as possible.
3. Build a patio
You don't need a lot of space to build a useable patio. If you have space, consider building a patio away from the house. All you need is enough room to put a bench or a small table and a few chairs. If you don't quite have the space to create a "patio island" then build a patio out from your home like an extension. Raise your patio above the ground a few feet to help add some visual depth to your landscape. You'll need to add steps, but only one or two steps should do it–and these steps will help to add to a more dynamic look.
4. Install raised beds
If you want to add a garden space or a flower bed to your backyard, then raised beds might be your best option. Raised beds give you more flexibility than simply planting your garden or flowers directly into the ground. This is because you'll be able to build your raised beds wherever you want them, whereas you may be limited to what areas of your yard you can plan your garden or flowers if you don't use them. The use of raised beds also gives you the chance to add more texture to the space through the use of different materials, such as wood, metal, concrete, or brick.
If you don't have the room for raised beds, then simply go with pots and planters. These provide a bit of flexibility in your backyard design as well since you can move them around should you decide to switch things up a bit.
5. Add vertical elements
Yes, we did say that you should avoid fencing (which is a vertical element) since they can make your space feel less open and smaller. However, strategically using vertical elements throughout your space is a great way to get the most out of it. And building upwards–as long as you're not dividing your space–will help draw the eye upwards, making the backyard feel bigger than it is.
For example, building trellises and lattices help add some visual interest and allows you to grow plants upwards. If you have the space available, a pergola over your patio area can really add to your yard without making it feel cluttered. You could also use one of your home's walls or one of the walls around the exterior of your yard to grow a vertical garden.
6. Add a water feature
You may not have room for a large pond, but that doesn't mean you have to completely nix the idea of a water feature. The presence of water helps add to a natural environment and will give your yard a more relaxing and soothing atmosphere. Smaller water features can include birdbaths or small water fountains can have a big impact without taking up a lot of space.
7. Use lighting strategically
Lighting can go a long way to helping get the most out of your backyard design. Even just simple pathlights can help add visual depth to your walkways, while uplights can highlight certain architectural features. Again, don't go overboard with the lighting or you'll end up with a yard that's way too lit up at night, making it more of a distraction than anything.
8. Keep the decor simple
Don't go too crazy with your decor. This means avoid adding too many benches and chairs (designate your patio as your seating area and add maybe a bench or a chair somewhere else in your backyard if you have the space) and don't overdo it with your garden decor elements, such as the lawn gnomes, potted plants, and the like. A few strategically placed decor elements can add some visual interest to your space, but if you use too many, it will come off as clutter. You don't want too much visual interest or it will be too overwhelming, which is not the vibe you want from your backyard.
As you can see, there are plenty of ways that you can add hardscaping to your landscape design despite being limited by your small backyard space. If you would like professional guidance designing your small backyard space, then be sure to contact us at Twin Oaks Landscape in Ann Arbor, MI, today.
"We recommend Twin Oaks to any entity looking for a full-service, talented, and responsive provider."
Therese Mahoney
Secretary/Treasurer of Doral Creek Condominium Association, Ann Arbor, Michigan