May 10, 2017
The latest trend in home building around the Ann Arbor Michigan area has focused on larger homes and smaller yards. When you are looking to make your yard a beautiful part of your home, but you don't have very much square footage to work with, then you need to get creative. Here is a fun list of the many innovative and creative ways to make the most out of a small backyard.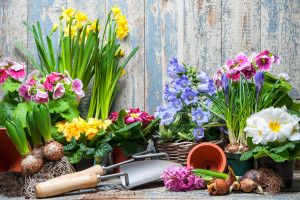 1. Plant a vertical garden
A new trend in gardening has been moving up in the small backyards all over Ann Arbor Michigan. Vertical gardening focuses on the space above the ground, not below. By building a ladder type system where you can hang pots, you will find that there is much more room to grow flowers, herbs, and vegetables. This can also be a fun way to get creative with the design of your vertical garden, and match it to your own unique style.
2. Create a center point
When you don't have a ton of room to work with in your yard area, you can put the focus on one beautiful feature. Whether you are planning on having a beautiful sculpture, a unique water feature or a magnificent plant, your whole yard design can focus on bringing attention to this main center point.
3. Make the most out of your small backyard
Your small yard space has a lot of potential. When you start thinking of the possibilities for your smaller yard, you can see all of the great things that can be done in this amount of space. A spa is a perfect example of an addition to your small yard that would allow you to host small parties in this space. You may even be able to fit in a small outdoor dining table that would accommodate many of your friends and family members.
4. Get creative about your storage
In most yards, you will see a large shed for all of the gardening equipment. When you have a smaller space, you will have to get more creative about where all of your lawn care items will be stored. There are many furniture items that will give you ample storage space. For example, there are benches made for smaller yards that will convert into storage chests.
5. Give your yard personality
While you may not have a huge amount of space to work with, you will be able to slam a lot of your own personality and style into your small yard. If you are a skater, think of building a small halfpipe that would take up a big area of your back yard. If you love the beach, have some sand shipped to your yard for that beach feeling. Decorating can get fun when you put your own unique spin on things. Your friends and family will be much more likely to enjoy themselves at gatherings when they can see your own personal spin on your yard.
When you take a look at smaller yards, there are a lot of options for this amount of space. If you take a creative approach to designing your smaller yard, you can add your own unique style into this space that will match the overall feel of your home.
"We recommend Twin Oaks to any entity looking for a full-service, talented, and responsive provider."
Therese Mahoney
Secretary/Treasurer of Doral Creek Condominium Association, Ann Arbor, Michigan