March 3, 2018
You have only one chance, 7 seconds, to make a good impression with your curb appeal.
First impressions set the tone for all the relationships that follow; in business, this can make a big difference in helping you attract and retain clients.

While dealing with customers across the board, your curb appeal will help you reach out to the right people.
Step outside your business and look at everything with a fresh eye; walk in your customers' shoes and understand the kind of message you ar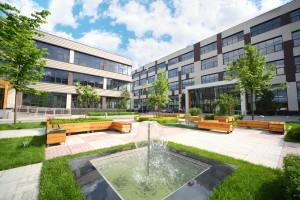 e trying to pass across with your curb appeal.
This change in perspective can make a big difference in your relationship with customers and the community around your business.
Your office complex, apartment building or public space should help you convey the right image. Your landscape should help you communicate what is important to you, without intimidating clients or offering them too much information.
Think of the message you want the surrounding environment to communicate to your clients.
For example, a dental clinic should make clients feel relaxed, while a daycare allows you to get creative and create a playful environment.
While looking to improve your office's curb appeal, there are several things to consider:
Business Personality
As a business owner, you need to decide the right aesthetic for your property's landscape.
Start by examining your company culture, and using it as inspiration.
For example, if you take pride in having a diverse team, involve everyone in the consulting process to create an environment that represents everyone in your company.
If you have a non-traditional approach to your work, consider a colorful and out of the box approach; however, if your company believes in traditions and in following structure, a clean cut and neutral approach will work well.
Your landscape designer will help you choose the right plants and design to match your business' personality, and then customize it to your needs and overall business culture.
Making Use of Outdoor Space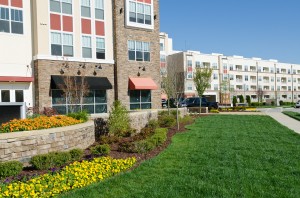 While some business structures demand that everything happens inside, there is plenty of opportunity for you to make use of your outdoor space to grow your business.
For example, a bank, where security is paramount, can create an outdoor sitting area where employees can sit for lunch when they are not dealing directly with business-related issues.
If your industry offers a more relaxed environment, the outdoors can become an extension of your office.
Employees can hold meetings outdoors, work there or even entertain clients.
While looking to make use of outdoor space, think of the different activities you can take outside: for example, if you want to encourage employees to hold meeting outdoors, get tables and chairs under shaded foliage and offer a portable whiteboard.
If you are looking for alternative working space, provide comfortable chair and tables, with charging ports for their laptops.
Get a landscape designer who can help you make your outdoors as appealing as your indoors, while still making the space flexible enough to handle different activities throughout the year, such as barbeque parties or team building events.
Landscape vs. Signage
Your landscape isn't only surrounding your building, your outdoor signage could also use a boost from an experienced landscape designer.
Consider asking your commercial landscape company to provide you with ideas for enhancing the look of your signage and any ground cover in that area.
Be open to new ideas that can improve the look of your signage for prospective and current employees, staff, and tenants.
Long-Term Planning
Your commercial landscape should serve you all year round.
This begins with choosing the right plants and employing the right maintenance practices for every season.
A good landscaper will offer you a yearlong package that includes scheduled maintenance to meet your needs as the seasons change.
You landscaper should also offer winter services like snow removal and ground maintenance. Just because it's winter, doesn't mean there isn't work to do in regards to your landscape.
Drainage Solutions
Water deficiency dries up plants, affecting the appearance of your property's landscape. Consider installing a sprinkler system that can deliver a hassle-free watering system for your landscape.
On the other hand, having too much water can create a unique set of problems.
Commercial customers may experience problems like pooling or standing water from poor soil composition, a poor grade, or a leaky irrigation system. Let a professional commercial landscaper help you find a solution to your water woes.
Experiment with Non-Conventional Ideas
Whether you are looking for out-of-the-box ideas or sticking to tradition, make it interesting for anybody who visits your building.
Experiment with new ideas such as climbing plants, plants with different heights or even trees that represent your presence in different parts of the country or the world.
Entryway
Complete a beautiful landscape with an equally good-looking entryway for the right curb appeal. In addition to ensuring every plant on your property stays healthy all year round, your landscaper can provide you with different solutions to make your entryway a focal point.
Some of the solutions include hardscape services to refurbish your entryway or introducing potted plants strategically to bring more life to the entryway.
Everyone coming into your property will judge your entryway; make your decisions carefully to ensure you send the right message to potential customers.
Everything Counts
Every square inch on your property can help you improve your curb appeal, which goes a long way in improving your relationship with clients.
Getting the right landscaping team can also help you improve productivity in your employees; there are several documented advantages to working outside under natural light.
Twin Oaks Landscape understands the importance of a professional curb appeal and will work with you to offer you personalized solutions specific to your business needs.
"We recommend Twin Oaks to any entity looking for a full-service, talented, and responsive provider."
Therese Mahoney
Secretary/Treasurer of Doral Creek Condominium Association, Ann Arbor, Michigan