March 29, 2017
If you're thinking about adding an outdoor fireplace to your backyard and are considering the benefits of having one built on your property, some of the advantages of constructing this versatile and attractive element could include:
Warmth and Relaxation
Sitting by a crackling fire is a great way to spend time in the outdoors during cooler weather. The entire family would not be quite so housebound in the fall and winter and would be able to relax and enjoy the fresh air and cozy backyard surroundings in comfort. Add hot chocolate, fresh coffee, apple cider, local wines, or hot toddies to the mix for even more comfort.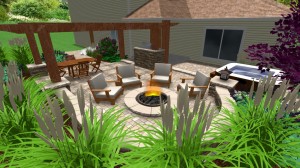 Ambiance
An outdoor fireplace would add so much to your backyard. It would look attractive and be more welcoming to your guests and relatives during outdoor gatherings. Other surroundings such as flower beds and benches could be built to match. It would look great right on your patio, in the middle of the backyard, or even nestled in a corner of your lawn.
Culinary Opportunities
A fireplace such as this would give the family ample opportunity to cook their snacks and meals in the great outdoors. Hot dogs, s'mores, and other simple foods would be a snap over the open flame. If the fireplace is equipped with the proper equipment, other foods such as burgers, steaks, shish kabobs, and seafood could also be prepared. Add special wood chips to the flames to promote even more flavor in your favorite outdoor dishes.
Promote Quality Time with Family and Friends
An outdoor fireplace would lend itself to unique gatherings, special occasions, and romantic encounters. During cooler days and evenings, the family would be more apt to meet at this new structure to converse and bond. These moments could become treasured times to spend with close friends, children, and older relatives. It could become a focal point for cool-weather birthdays, anniversaries, and holiday parties. This is a great way to extend your living space, especially if your house is not very large, or if you need room to entertain larger crowds.
Increase Property Values
Adding a new fireplace to your backyard would increase your property values. Realtors love this type of addition, because it can be a huge selling point for buyers. Even if you decide never to sell your home, you will know that you have increased its value just by having this simple structure built. Just by adding this structure to your property, it will inspire you to find more ways to improve your residence.
As you can see, adding a fireplace to your outside living area will provide you with so many positive benefits. Being able to sit outside and enjoy the moon and stars on a crisp, clear evening is a priceless benefit. The gatherings at your home will be treasured, and you will be creating real memories for friends and family alike. Everyone will want to be included in these fun and friendly social events.
"We recommend Twin Oaks to any entity looking for a full-service, talented, and responsive provider."
Therese Mahoney
Secretary/Treasurer of Doral Creek Condominium Association, Ann Arbor, Michigan