October 30, 2023
As of September 1, 2023, Twin Oaks Landscape has been approved as a 2023 Unilock Authorized Contractor. Alex Cremeans took the lead in obtaining this certification from Unilock.
On our certification, it states,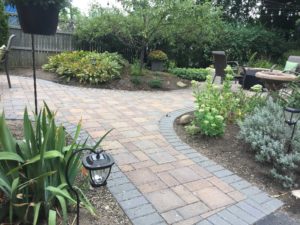 "Abiding by the Code of Ethics and Values of the program, a Unilock Authorized Contractor provides outstanding quality workmanship in the installation of Unilock paving stones and retaining walls; and is backed by the Unilock Peace of Mind Workmanship Guarantee".

What Does it Take to Become a Unilock Authorized Contractor?
Becoming a Unilock Authorized Contractor demonstrates the superb quality and high standards of Twin Oaks Landscaping. Unilock Authorized Contractors go through rigorous authorization standards that can only be met by high-quality paver contractors. By obtaining a Unilock Authorized Contractor certification, Twin Oaks Landscaping has proven themselves to be exceptional paver contractors who have a deep knowledge of paving products and are dedicated to exceptional craftsmanship.
To obtain status as a Unilock Authorized Contractor, Twin Oaks Landscaping had to go through several steps, including:
Workmanship Inspections: our paving work was assessed while in progress, and then again three years after installation.
A full overview of business practices, to ensure that every company who is certified as a Unilock Authorized Contractor is operating with best business practices.
Proof of Insurance: Liability insurance, as well as third-party worker's compensation coverage are all reviewed for acceptance.
Customer References: Unilock checked references with many of our Twin Oaks Landscape clients to verify their satisfaction with our work on their hardscaping.
Keeping Our Status as a Unilock Authorized Contractor
To maintain our status as a Unilock Authorized Contractor, Twin Oaks Landscape will need to recertify every year. Unilock has high standards for their authorized contractors, and they are expected to prove that they are maintaining those standards year after year.
Twin Oaks Landscape has always demonstrated exceptional hardscaping work with a commitment to quality, and we are confident of maintaining our status as a Unilock Authorized Contractor. Knowing the value we can provide to our clients as a Unilock Authorized Contractor, we plan on maintaining our status throughout the years.
What are the Advantages of Working with a Unilock Authorized Contractor for Hardscaping?
Because Unilock Authorized Contractors have exceeded the highest standards set for them, Unilock will back the work of Unilock Authorized Contractors with a two-year guarantee, covering structural failures of residential installations using Unilock products.
Hiring a contractor for your hardscaping project who is a Unilock Authorized Contractor can give you peace of mind that your project will last. Unilock itself provides a lifetime guarantee of the structural integrity of their products intended for residential use, and any materials that prove defective, not including normal wear, will be replaced.
With a guarantee on both the product and the workmanship, there is great advantage to working with a Unilock Authorized Contractor for any hardscaping jobs.
What Unilock Products Does Twin Oaks Landscaping Work With?
Twin Oaks Landscaping will always work with you on your hardscaping project to find the right design and right products for the best possible outcome.
Unilock has top quality stone and paving products, including pavers (permeable and natural stone), porcelain tiles, materials for fireplaces, fire pits and outdoor kitchens, stones for retaining walls and base units, pool coping and wall caps, pillar caps, and stone steps.
With Unilock products, Twin Oaks can install a variety of outdoor living spaces to enhance your property, including pool decks, walkways, front entrances, retaining walls, driveways, paver patios, fire pits and fireplaces, and outdoor kitchens.
Twin Oaks Landscaping has always been proud of their hardscaping work. We know that a well-constructed and installed hardscape can transform an outdoor area. We know how to enhance your natural landscape features, yards, and gardens with harmonious hardscapes. Hardscaping won't take away from nature yet will allow you to appreciate it in a new way.
Having the confidence of a supplier such as a Unilock helps demonstrate our commitment to quality for all our clients. To learn more about how we can help keep your property, lawn and landscapes always looking their best, contact Twin Oaks Landscape today.
"We recommend Twin Oaks to any entity looking for a full-service, talented, and responsive provider."
Therese Mahoney
Secretary/Treasurer of Doral Creek Condominium Association, Ann Arbor, Michigan