October 2, 2018
Michigan winters are, no doubt, unpredictable. We never know when and how much snow we will get, or how long it will last. The most recent Michigan winters have been especially tough to deal with due to heavy snowfall and ice. Another winter like that can cause your business a lot of problems and loss of customers.
That is why your best bet to act now and choose a company to handle your commercial snow removal this winter. Having a company in place before the snow flies will benefit your business and keep you open for business no matter what Old Man Winter blows our way.
Immediate Results
Wouldn't it be nice to have peace of mind knowing that your property will be cleared of snow and ice in a prompt and professional manor? That's what an existing contact with a snow removal company can give you. A professional commercial snow removal company is prepared and ready to act in any winter weather event. You won't need to panic when you wake up in the morning and discover several inches of snow have accumulated overnight. You contractor will take care of it and your business will be fully operational in a timely manner.
Safety
No matter what type of business or commercial property you run, a well-plowed lot is a safe place for everyone. Even if your lot is simply used as a parking lot, those who work in the building will have increased safety when they enter.
Reduced Liability
Along with safety, a plowed lot also has lower accident risk and liability. Snow and ice-related accidents can happen when parking lots are slippery, which leads to lawsuits that are easily avoided with a clean lot. Reduce your chances of a lawsuit by scheduling regular snow removal today.
Avoid Fines
In Ann Arbor, businesses have 24 hours to remove snow from parking lots, driveways and sidewalks. Property owners will receive only one warning per season. After that fines will incur. You can protect yourself from tickets and fines all winter long with a snow removal contract.
You will have peace of mind knowing a professional snow crew will take care of all your snow removal needs.
Less Downtime
There is nothing worse than an unforeseen business closing, especially if it could have been avoided by a little pre-planning. Having a snow removal contract is a valuable insurance policy. With a professional team working at your property, your business can stay open even in the harshest weather.
More Customers
Preparing your lot for snow is a conscientious action on your part as a business owner. If a customer can't get into your business to shop, they will move on to a competitor. Losing customers because of snow is the absolute last thing you want.
Equipment
Proper equipment and experienced staff know how to handle your snow safely, quickly and efficiently. You don't have to worry about buying any of your own equipment. Your snow removal contractor will take care of it all. Rest assured knowing the plowing will be done correctly, and won't cause any surface damage to your property.
Pricing
Most commercial properties that have tried to handle their own snow removal in the past find that it is cheaper to hire professionals rather than spend money on the upkeep of buying your own equipment, salt, shovels, etc. comes in affordable snow management packages. Comprehensive packages range from seasonal to per event for one site or many sites.Pricing is set based on your company's needs and is completely customizable. Plus, having a contract in place before winter arrives could land you a more affordable rate.
The Bottom Line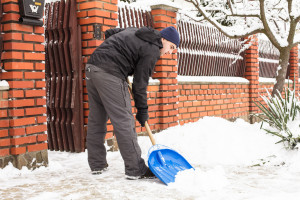 Snow and ice removal can be tedious, exhausting, time-consuming, and possibly even dangerous. This is why it is important to hire a snow removal service.
When deciding on the best company for you, pay attention to online reviews and word of mouth. If a place offers incredibly cheap services, there may be a reason they feel they have to do that to attract customers. Look for a place with excellent reviews and a good reputation. You want a snow service that matches your own dedication to running a business. If a service has a reputation for lateness or shoddy work, don't waste your time. You don't need a lawsuit on your hands because your snow removal service never showed up and someone got hurt.  
Don't wait last minute until winter arrives before finding your commercial snow removal partner. Having a service contract in place early for commercial snow removal services will give you peace of mind that winter weather won't disrupt your business operations in any way. Contact Twin Oaks Landscape today to find out how our experience and professionalism can work for you this winter.
"We recommend Twin Oaks to any entity looking for a full-service, talented, and responsive provider."
Therese Mahoney
Secretary/Treasurer of Doral Creek Condominium Association, Ann Arbor, Michigan