December 8, 2022
Lighting for safety is the bare minimum. If you have a commercial property, it is well worth investing in landscaping, and that means installing landscape lighting that combines safety, security, and aesthetic appeal. Combining different styles of outdoor accent lighting will visually take your commercial property to the next level.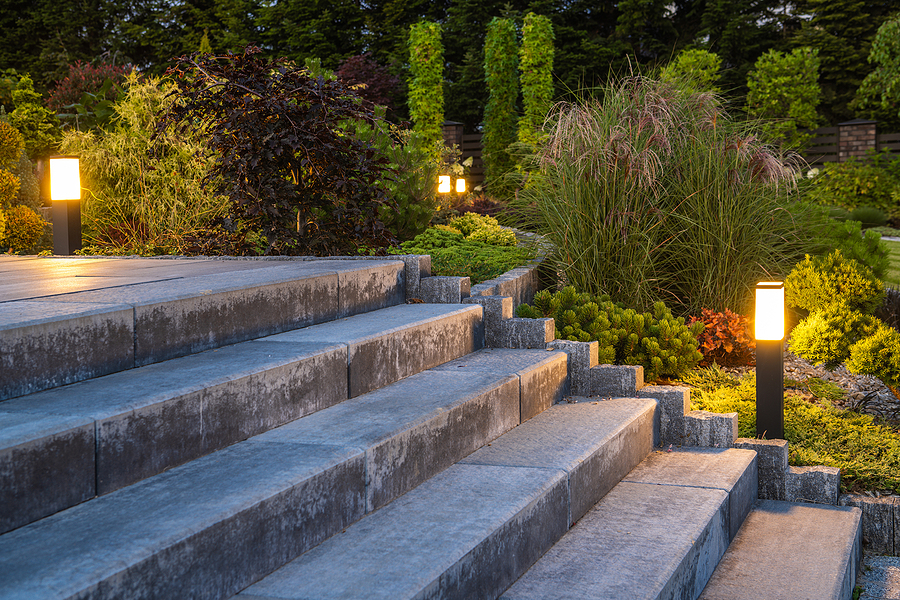 Outdoor Accent Lighting Can Serve Two Purposes
The right exterior lighting design can dramatically impact the security, safety, and overall curb appeal of your commercial property. When installing landscape lighting, safety and security are the primary concerns, but that doesn't mean that some thought shouldn't go into the aesthetic appeal. If you focus only on function, you are missing out on a great opportunity to create some visual interest. If you've invested in landscaping your commercial property, a professional outdoor accent lighting design can showcase your building's visual appeal, even when the sun goes down.
Installing Landscape Lighting with Motion Sensors Can Save Energy
If you choose motion activated lights as part of your landscape lighting design, you can save on your energy bills. Automatic lights only turn on when motion is detected. For someone entering or leaving your building at night, or shining a spotlight on someone who shouldn't be there, motion sensing lights are only there when you need them, and won't waste energy by remaining bright for long periods. For commercial properties, it's often recommended to combine motion sensing flood lights designed for security with already softly lit features so as to avoid being too harsh.
Outdoor Accent Lighting Can Make Pathways and Entrances Safer
Security concerns are important, but it's also important to consider safety. When you illuminate walking paths, sidewalks, and steps, you are ensuring that your visitors can see where to walk and can avoid injuries sustained by veering off a path or stumbling over a crack. You don't want your business to be held liable for any injuries from unlit walkways. Clearly marking entrance and exits with outdoor accent lighting can also keep visitors safe and secure.
What Kind of Outdoor Accent Lighting Will Work Best?
Most commercial properties look for a landscape lighting design with floodlights, spotlights, and path lights. These are the bare minimum for keeping your property and visitors safe and secure when the sun goes down. However, highlighting trees, signage, and other landscaping features can be done with uplighting or moonlighting techniques, which will bring your landscape design into focus while still adding a touch of light. Recessed lighting is often used for outdoor areas that don't need the harsh brightness of a floodlight or spotlight, but can still benefit from illumination.
Finding the Right Professionals for Installing Landscape Lighting
If you are already working with a landscape design company for your commercial property, they will likely be able to work with you on a landscape lighting design including outdoor accent lights. A landscape contractor with experience in lighting designs will know the right positioning, techniques, and lights that are necessary to keep your property safe, secure, and aesthetically pleasing.
The right landscape lighting plan can take your business' curb appeal to the next level. When installing landscape lighting, look to the professionals for the right design. A mix of security, safety, and accent lighting will make your building shine. To learn more about how Twin Oaks Landscape can help you create the perfect landscape lighting design for your commercial property, contact our team today!
"We recommend Twin Oaks to any entity looking for a full-service, talented, and responsive provider."
Therese Mahoney
Secretary/Treasurer of Doral Creek Condominium Association, Ann Arbor, Michigan