January 31, 2018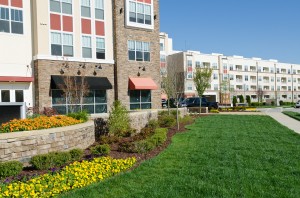 Is your commercial landscape stale?
Consider reinventing it.
Your landscape can add significant value to your business in many ways, including attracting new customers and boosting community presence.
Southeast Michigan business owners can take advantage of the Great Lakes climate and natural beauty of the area to create stunning, inviting commercial landscapes with the help of an accomplished landscaping contractor.
A proper commercial landscape design takes time to plan and execute. It's important for business owners to develop strong relationships with their landscaping contractors to ensure their projects' value over time.
An overhaul of a commercial landscape isn't a one-and-done event; business owners need to plan accordingly for the future.
If you're an Ann Arbor, Michigan business owner thinking about updating the look of your property, take time to consider the various ways such a project can add value to your company.
Why Bother Updating?
An outdated commercial landscape can be a pressing issue rather than an apparent investment for some business owners. Business owners who purchase older, previously owned properties may need to adjust the landscaping to accommodate their company's needs or simply clear away overgrowth and outdated landscaping features.
While basic cleanup and maintenance, services can improve a commercial property's curb appeal, taking advantage of this time to completely overhaul the look of the landscape, can help a newly purchased property stand out and help build the new owners' image in the community.
Some business owners may simply be looking for a change. Established companies need to make changes from time to time, and investing in a more dynamic and modern commercial landscape can attract new clients and provide a refreshing and inviting change of pace to employees.
From a practical standpoint, investment in your commercial landscape can potentially boost property value, cut utility costs, improve productivity, and enhance the customer experience. Consider the following tips if you think your commercial property could use an overhaul.
1. Always Start with a Plan
Take time to think about how to maximize the effect of your project and invest in a solid plan for your new commercial landscape. Your landscaping contractor should be able to provide recommendations for planting, ideas to take advantage of your property's existing architecture, and suggestions for sustainable or green landscaping solutions. You can also take this time to discuss future upkeep concerns and costs. Connecting with a landscaping contractor you trust, and one with a proven record of successful work in your area is the first step in reinventing your property's exterior.
2. Clever Planting Choices
The vegetation, flowers, trees, and other foliage decorating your commercial landscape plays a big role in your company's curb appeal. A good landscaping contractor will recommend perennial and seasonal plants to maximize your commercial property's entrances and grounds. Climate plays a large role in planting options, so consult with your landscaping contractor closely to find a solution that works for your needs.
Taking advantage of the seasonal colors in the area as well as your company's color scheme is a great way to make an eye-catching first impression on new visitors. You can also use plants to create focal points on your landscape and draw visitors' eyes where you want them to go.
Additionally, planning your planting schedule and selection is an important step. Some plants require more careful maintenance and attention than others, so business owners should become familiar their planting choices before starting.
Budgeting and assessing the requirements associated with long or short-term plant maintenance requires careful consideration as well. Plant maintenance incurs different costs depending on the type of plants included, which naturally affects your cost structure.
Your landscaping company can recommend landscaping ideas and solutions for your budget. It is also wise to plant some type of evergreen and native grass for cold weather appeal.
You don't want your business surrounded by dead plants and bare-branched trees during the winter. Staggering the planting schedule for your commercial property helps ensure visual interest and beauty year-round.
Consider the textures of the plants you choose as carefully as their colors and placement. Selecting the right plants for a commercial property comes down to climate, existing architecture, and consistency of the landscaping theme. Conflicting textures disrupt the flow of visual interest in a landscape.
3. Enhanced Entrances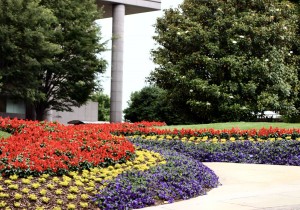 Plants can make the entrances to a commercial building more obvious and welcoming. With color and upkeep in mind, choose foliage that draws visitors' eyes toward the entrances of your building and invites them to step inside. Brightly colored flowers that sit low on the ground and bulb plants help draw the eye toward entrances.
You don't want customers visiting your commercial property to wonder how to enter the building, so take advantage of your building's architecture and select plants that highlight the entrances without overwhelming them.
Remember, people have an innate tendency to judge by appearance, even if they don't intend to do so. First visual impressions are important and can help set the tone for a customer's experience with a business.
A welcoming, professionally arranged entrance can play a tremendous role in boosting a commercial property's first impression.
4. Plan for the Long-Term
A beautifully maintained commercial landscape is a long-term investment, so business owners should think about how the landscaping will mature over the next several years. Many poorly planned commercial landscaping projects require more revisions after a few years due to overgrowth and increasing maintenance issues.
Plantings that outgrow their allotted spaces can potentially make your building's entrances harder to see or even compromise safety at all the building's access points. Over time, mature plants may make the grounds more difficult and expensive to maintain.
Planning a visual theme with care and future growth in mind is the best way to ensure the longevity of your project. You want to design something appealing that will leave a good lasting impression on visitors, not one that will diminish in a few years.
Developing a solid plan with your landscaping contractor with the future in mind not only creates a more visually compelling result, it saves money, too.
5. Use Creative Flair Wisely
Maintaining a formal commercial landscape is essential for upholding a professional appearance for some companies. Other companies have a bit more room to get creative with their landscaping. Creative companies like design firms, marketing agencies, and media companies should take advantage of their landscapes in ways that resonate with their companies' personalities. The visual artists in the company can work closely with landscaping contractors to create stunning landscaping displays.
Professional companies may not want to experiment with outlandish or unconventional design choices in the areas visible from outside the building, but facilities with enclosed outdoor spaces like breezeways or courtyards have the potential for more creative landscaping choices that employees, customers, and clients may enjoy.
6. Take Advantage of New Landscaping Options
Landscaping projects are great opportunities to build your property's existing architecture as well. A hardscape patio or gazebo can make for a fantastic gathering place outside your building.
During comfortable weather, these spots can be great for interviews, waiting areas, or private functions. You may want to investigate renovating your outdoor spaces like entrances and existing patios to create a more compelling commercial landscape.
Your landscaping contractor may have some ideas that fit your vision and budget.
Partner with the Best
The Twin Oaks Landscape team has built a reputation for the very best commercial landscaping services in southeast Michigan spanning more than twenty years.
We take the time to get to know every commercial client's needs and expectations to develop a solid landscaping plan that will impress clients and add value to the company.
Contact the Twin Oaks Landscape team today to start crafting a plan to reinvent your commercial landscape in a way that will impress and welcome customers for years to come.
"We recommend Twin Oaks to any entity looking for a full-service, talented, and responsive provider."
Therese Mahoney
Secretary/Treasurer of Doral Creek Condominium Association, Ann Arbor, Michigan