January 22, 2021
If you are looking to expand your outdoor living space this spring, now is the right time to be thinking about your patio design. Although it seems like a simple addition to your home, there are many questions you will need to ask yourself before hiring someone to install your patio.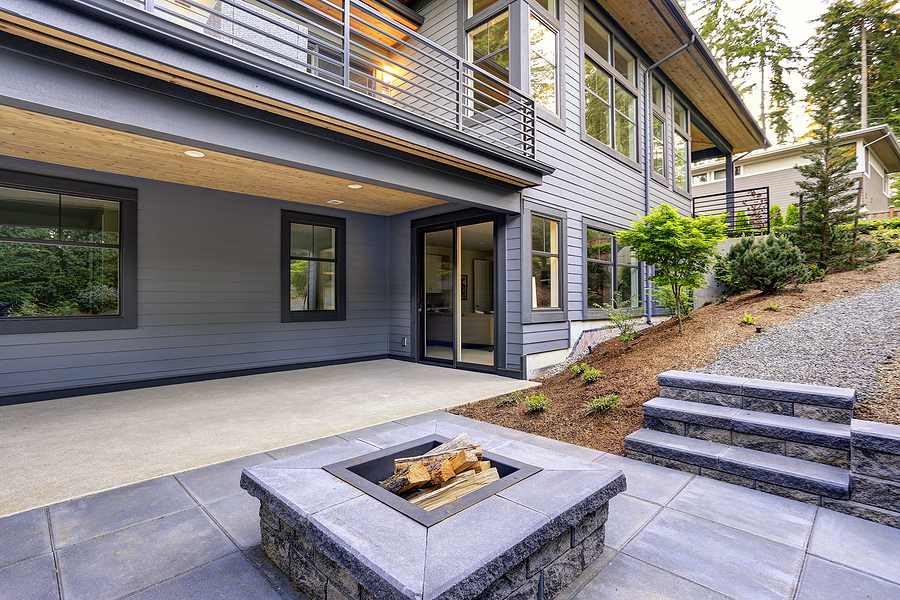 How are You Planning to Use the Patio?
Before you can do any planning, you need to think about how you would like to use the patio. Do you like to entertain large groups? Are you envisioning cooking and eating outdoors with your family? Will you use the patio after the sun has gone down? Do you want a quiet oasis to relax? Are you picturing a fireplace? A hot tub? A bar? A place to cook? Maybe you want a patio that will fit all these needs, but prioritizing how you want to use your outdoor space will impact everything else, from size to location to budget.
Where is the Best Spot for a Patio?
When you are choosing the best spot for your patio, you want to make sure that it's convenient to access from both your house and your yard. Many families like to have easy access to the kitchen, especially if they are planning to do a lot of entertaining. You may want to consider how much sun an area gets, since a shady spot won't be great for sunbathing, but too much sun could make it hard to relax outside comfortably without some man-made shade. Before you settle on a location, test it out. Mark the area and watch how the sun falls during the day and determine if you will be able to easily access it from both the house and from where guests will enter your yard.
How Big Should the Patio Be?
The size of your patio will be determined by the size of your yard, your budget, and how you plan to use your patio. A larger patio will obviously cost more and take up more of your yard. Adding an outdoor kitchen, hot tub, or fireplace can take up a lot of space. You also want to make sure you have enough room for seating, storage, and any planting and landscaping you might want to do.
Should You Install a Paver Patio or a Concrete Patio?
There are several different materials you can choose for your patio. The most basic patio is a concrete slab. A concrete slab is a few inches of concrete poured to cover the area. It's very cost effective and requires little maintenance, but it has the disadvantage of not being very attractive. Stamped concrete is similar to a concrete slab, but it will be finished with a texture that can resemble different styles of stone or brick. It does cost more than a simple slab but is much more attractive. Pavers are individual tiles that will fit together, and by far the best option for a customized look. Stone and brick are the most popular choices for paver patios. A paver patio will cost more but has many advantages. Pavers are much more attractive, stronger, last longer, and have a much higher return on your investment than concrete.
How Much Will a Patio Cost?
The cost of a patio will be determined by many different factors. It's important to have a budget in mind when planning. The location, size, materials, and any extra features will all determine how much your patio will cost. Discuss your ideas with your landscape contractor. They can help you reconcile your design ideas with your budget.
When you are ready to discuss your patio design with your contractor and begin the planning process, make sure that you are ready to discuss your usage, the materials and size you want, and your budget. A patio can be the perfect spot for your family to enjoy your yard, and a well planned patio is one you know you'll use often. Twin Oaks Landscape is here to help you bring your ideas to life. Contact us today to learn more about our expert paver patio installation.
"We recommend Twin Oaks to any entity looking for a full-service, talented, and responsive provider."
Therese Mahoney
Secretary/Treasurer of Doral Creek Condominium Association, Ann Arbor, Michigan