November 30, 2020
If you are considering adding a patio to enhance your outdoor living space, using patio pavers is what most landscaping experts recommend. Although winter is upon us, now is the perfect time to begin planning for a new patio next spring. Patio pavers have a wealth of advantages over poured concrete, and by designing and planning your patio paver project now, you will be able to enjoy your outdoor living space as soon as warm weather returns.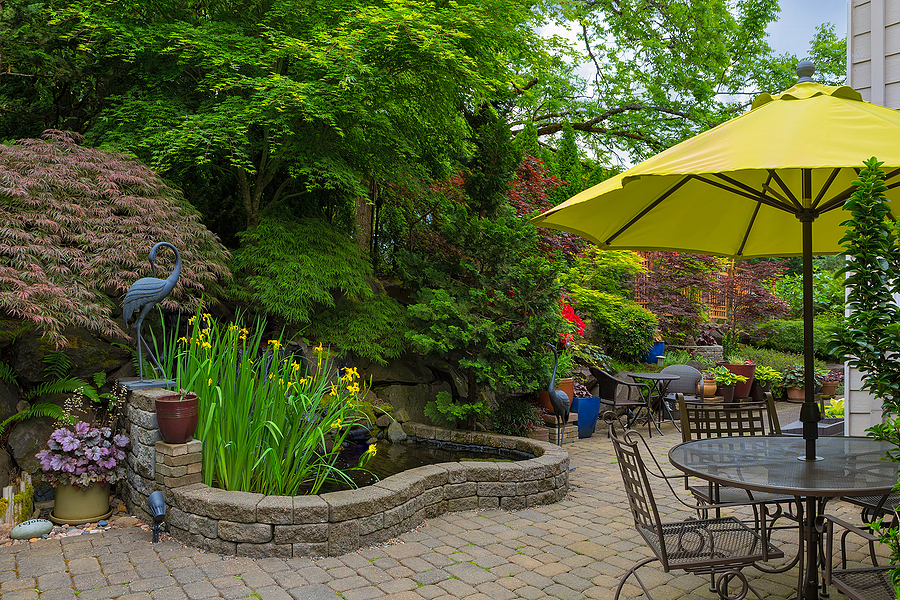 What are Patio Pavers?
Patio pavers are sometimes called paving stones and can be pieced together for patios, walkways, driveways, and other hardscaping features. The three main types of patio pavers are natural stone, brick, or concrete and come in a variety of colors, textures, and patterns. When planning a patio for your backyard, using patio pavers instead of poured concrete has become the preference of many homeowners.
Advantages of Using Patio Pavers for Your New Patio
Installing a new patio has plenty of advantages. It will add value to your home. It will reduce the area of your lawn, which will reduce lawn maintenance, and it will increase the overall aesthetic appeal of your home.
Patio pavers are a highly customizable yard feature, with hundreds of options to choose from. Your patio pavers can make your patio unique simply by the way the pavers are laid out.
Patio pavers are durable and long-lasting. They are resistant to cracking, frost, erosion, and other wear and tear from the elements and the environment.
Patio pavers will make a patio that is relatively low maintenance.
Using patio pavers will make for a safer outdoor space. The surface is permeable and non-slip, making it safer than other options.
If necessary, repairs are quick and low-cost. Damaged or stained pavers can be removed and replaced without replacing the entire patio.
Tips for Construction of a Paver Patio
Speaking to an experienced landscaping company that specializes in paver work is the first step to designing and installing a paver patio. You will be able to collaborate with skilled professionals to ensure that you have a patio that enhances your outdoor space. When you are planning your patio project there are several tips that you'll want to make sure you discuss with your landscaping company.
Drainage – You'll want to make sure that your paver patio has adequate drainage so water doesn't collect under the patio or near the foundation of your home. If this isn't done properly, water can accumulate under the patio, which will also cause the pavers to sink and crack. Your paver patio should be graded and sloped away from your home's foundation.
Weed Growth – Most landscapers will place a geotextile fabric between the soil and sand beneath the patio pavers. This will reduce weed growth between the pavers. The sand placed between the joins will typically be polymeric sand, which has fine grains containing silica for additional weed prevention.
Extra Pavers – Your landscape contractor should have you keep a few extra pavers on hand, just in case you need repairs in the future. A well constructed paver patio should last for quite a while, but if a paver were to become chipped or cracked, having extra pavers will make repair much easier.
Now is the perfect time to speak to an experienced landscaping team to begin your paver patio design and plan. Your landscape contractor will take the time to collaborate with you on the look you want for your outdoor living space and can make sure that the materials and crew are ready for you when spring arrives. Contact Twin Oaks Landscape today to schedule an appointment with our patio installation specialists.
"We recommend Twin Oaks to any entity looking for a full-service, talented, and responsive provider."
Therese Mahoney
Secretary/Treasurer of Doral Creek Condominium Association, Ann Arbor, Michigan