June 24, 2017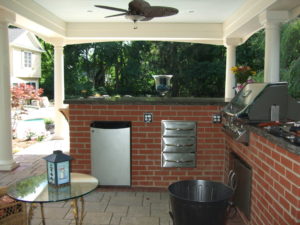 Outdoor kitchen lighting plays an important role in creating an ambiance and of course, fulfills functional roles as well. Cooking in a kitchen entails cutting, peeling, boiling, mixing, juicing, and sundry activities that you cannot do without proper lighting. There is a lot of variety in kitchen lighting which allows you to choose what is best depending on your requirements.
Illuminating the cooking area
Lighting above the grill is an essential requirement. Halogen bulbs are a good choice because these bulbs take less space and can tolerate high temperatures that you'd expect above a grill top. Track lighting is an option that lets you direct lighting to any area of the outdoor kitchen. They are available in myriad shapes and designs and can provide ample lighting to cover the entire countertop.
Ceiling lights
Lights on the ceiling brighten the outdoor kitchen space and should be ideally installed with dimmers that can regulate the brightness and enable you to create the ambiance you seek. Factor in humidity and wetness in the outdoor space, and use lighting and fixtures rated for your region. Take some time to select outdoor kitchen lighting and fixtures that will complement the design and colors of the outdoor space.
Under cabinet lights
Lighting under the cabinets is a good choice for outdoor kitchens without a ceiling. Under cabinet, lights are ideal kitchen lighting solutions for those who wish for discreet lighting. This also opens up space above the countertop for cabinets, holders, racks, and anything else that you want to add.
Well-lit pathways
The landscape around the outdoor kitchen should be lit tastefully and in a manner that ensures sufficient visibility for moving around. Lighting is good when it is under cabinets, but it can prove hazardous to have underlighting in pathways, especially, when you've got a plateful of food in your hands. The pathway leading to the outdoor kitchen should be well lit. Again, you can be creative in the placement of lighting so long as there is enough brightness. Solar-powered LED lights are a cost-effective option.
Pendant lights
Pendant lights are favorites when it comes to illuminating bars. This form of kitchen lighting imparts just the right feel to bars and serving areas. Install pendant lighting at an appropriate height for optimum illumination, clear sight, and easy movement in the bar area.  


Spend some time with an electrician to understand the best outdoor kitchen lighting alternatives available in terms of performance and looks. Install lighting that accentuates the positives of the outdoor kitchen and its surroundings like shrubs or a water fountain.
"We recommend Twin Oaks to any entity looking for a full-service, talented, and responsive provider."
Therese Mahoney
Secretary/Treasurer of Doral Creek Condominium Association, Ann Arbor, Michigan