July 4, 2015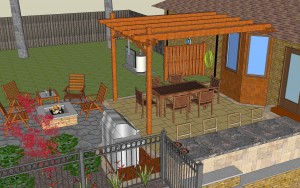 Each year, Ann Arbor MI residents look forward to warmer weather so they can take their entertaining outdoors. Entertaining outside can quickly take its toll on you, especially if you do not have the essentials. If you plan on a lot of entertaining outside, you may want to consider having an outdoor kitchen in your yard.
Benefits of Outdoor Kitchen
The benefits of having a kitchen in your yard are numerous, including the fact that it can save you time and energy. You will no longer have to run inside every time you need something to complete your cooking. Along with this, you will find:
• Creating a space in which to cook outside will actually increase the value of your property. Investing in an outdoor cook space will earn you a great return.
• Your outside entertaining space will also add living space to your home. This will give your family the opportunity to spend more time together.
• Entertaining more is also going to give you the opportunity to host more parties with your friends and neighbors. The fact is that cooking outdoors is much easier and you may even find that the food you are serving is much healthier as it is grilled.
Things to Consider When Designing Your Outside Kitchen
You must love the idea of entertaining and cooking for your guests outside, but there are many things to consider before you commit to a plan.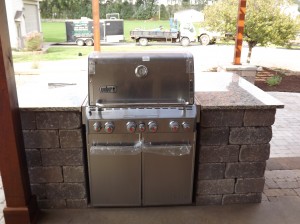 • The size of your outdoor space is crucial in your design. You may want a kitchen as large as the one in your home, but you have to consider how much space it will actually leave you for entertaining your guests.
• Another factor is the material in which you build your kitchen. Ann Arbor MI winters can be tough, so you will need to be sure that materials you use are going to hold up to the harsh weather conditions. Polymer is highly recommended in this area, as it will not warp or crack in the cold weather.
• The grill itself is also an important piece of the puzzle that must be figured out prior to building. A freestanding grill is not going to provide you with the value that a custom-made grilling island, but it can be put away for the winter so it is out of the cold weather.
An outdoor kitchen has the capacity to change how you are living. It will add more livable space to your home and increase your home's value, but it will also make life a whole lot more enjoyable. All you have to do is imagine you and your guests enjoying the weather while you cook a nice meal for them outside. Best of all, you will find the cleanup is so much easier when you can still be outside enjoying the beautiful weather. However, before you get started, make certain you contact a company with experience in kitchen design for outdoor spaces so that you can get the best outdoor space possible.
Get your yard looking its absolute best with custom landscaping solutions from Twin Oaks. Find us online at https://www.twinoakslandscape.biz/, visit us in Ann Arbor, MI at 4100 South Maple Road, or call us at (734) 213-6911.
"We recommend Twin Oaks to any entity looking for a full-service, talented, and responsive provider."
Therese Mahoney
Secretary/Treasurer of Doral Creek Condominium Association, Ann Arbor, Michigan