Have you ever wished you could create a cozy, inviting living space in your yard? Consider adding an outdoor. As a beautiful, visual focal point, a fire feature creates an instant atmosphere of warmth and light. Your family will enjoy gathering around the fire for conversation and family time. And with the additional warmth from the fire, you can extend the use of your yard when the cold weather rolls in.
Choosing the right fire feature could be daunting. Here is a list of key information about the most popular fire features.
Outdoor Fireplaces – Beautiful Backdrop for Entertaining
When you think of an outdoor feature, you likely think of an outdoor fireplace. Usually located close to the house, an outdoor fireplace lends a visual weight, anchors the outdoor space, and provides a beautiful backdrop for outdoor living and entertaining. Usually made of brick or natural stone, outdoor fireplaces can be built in any number of sizes and styles. You can choose a wood-burning design or the convenience of gas.
An outdoor fireplace is a great choice, but there are a few things to consider. Remember, it can only seat about 4 to 6 people, all facing the hearth. The chimney may block views, and if the cost is a primary consideration, you may prefer one of the less expensive fire feature options.
Fire Pits – Versatile Seating for a Cozy Gathering
A backyard fire pit offers more versatility than an outdoor fireplace. A classic fire pit allows seating 360 ° around the fire, accommodating about 10 to 12 people for a cozy gathering. A custom-built fire pit can be either in-ground or above-ground, and designed in any shape or style. Pre-made fire pits also come in a variety of styles, and many are portable.
Like fireplaces, fire pits can burn either wood or gas. Made of concrete, stone or metal, a wood-burning pit is simple and produces a big flame with an authentic smoky smell. A gas fire pit uses a gas burner for greater convenience, a more controlled flame, and no smoky smell.
Fire Tables – Contemporary Style
Fire tables offer yet another option for a fire feature. Just like it sounds, a fire table looks and functions sim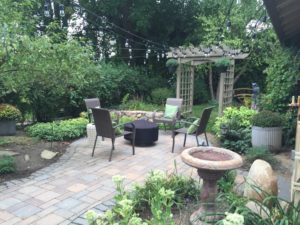 ilarly to a table. They even come in different heights reminiscent of table types: coffee table (23″), dining table (29″), and bar table (35″). Fire tables tend to have more contemporary designs, and are well-suited to a modern style home.
Fire Bowls – Warm Patio Accent
Perhaps you love the idea of a warm flame flickering on your patio, but don't want something as big as a fireplace or fire pit. A fire bowl can provide just that little bit of warmth to accent your outdoor space. These small, portable bowls can burn wood or gas, and come in simple or more elaborate designs in concrete, metal, copper, or quartz stone.
A fire feature is a great addition to any backyard. Consider adding one to your property this spring.