August 4, 2015
If you're looking for ways to create a welcoming and attractive backyard or garden area, there is no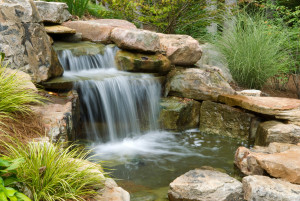 thing more captivating than adding a water feature to your outdoor living space.
These beautiful additions are a great way to add value to your property and serve as a focal point when you are entertaining family or friends at your home. In recent years, the use of these charming landscape features has been on the rise in the Ann Arbor MI and Northwest Ohio area for good reason.
Adds Peaceful Outdoor Living Space
Many home owners view their property as their personal oasis. When you add a great feature like custom designed waterfalls, water fountains, and freshwater ponds you are bringing the element of water into your garden area. The sound of the running water is incredibly relaxing and sets the perfect stage for spending an evening under the moon and stars. On a sunny afternoon, it is a great place to lounge in the sun and read your favorite book or catch up with your friends.
Light Up The Night
These days many water features can be designed and integrated with LED lighting. After the sun goes down, these lights can be turned on to gently illuminate the water and your Ann Arbor MI or Northwest Ohio property for more enjoyment. You can be sure that all of your friends will envy the sanctuary that you have created in your backyard. You might even inspire them to create their own piece of heaven in their own gardens and backyard!
Noise Control
If your home is in an area that is noisy, water features can help mitigate the noise caused by passing cars, loud neighbors, air traffic, or industrial noise. Th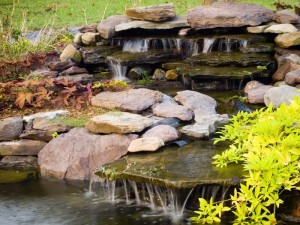 e gentle noise created by flowing water will dampen the unpleasant sounds that you do not want to have to listen to while you are relaxing outdoors.
Adding features like this to your home and garden allows you to tap into your creative side to make your home a more sophisticated place to be. Your project can be as simple or complex as you would like to be.
If you are working with a limited budget, you can always start off with a consumer level feature that is either a "plug and play" style feature or one that is easy to install yourself, like a self-contained water fountain or waterfall. If you do not have a lot of land, you might alternatively place these features on your patio or deck for maximum enjoyment.
People with larger budgets might consider bigger projects. If you have a substantial plot of land or an existing pool area, you might consult a construction company and see if they can custom design a feature that integrates well in your space. They will be able to offer guidance and ideas to make your outdoor living areas really stand out.
No matter what your budget, you'll find a feature is a great addition.
Keep your lawn looking beautiful with maintenance services from Twin Oaks Landscape. Find us online at https://www.twinoakslandscape.biz/, visit us in Ann Arbor, MI at 4100 South Maple Road, or call us at (734) 213-6911.
"We recommend Twin Oaks to any entity looking for a full-service, talented, and responsive provider."
Therese Mahoney
Secretary/Treasurer of Doral Creek Condominium Association, Ann Arbor, Michigan