July 27, 2021
Landscape pavers are incredibly versatile and can be used nearly anywhere on your property to add both visual interest and as a practical way to keep your landscaping neat. Pavers come in many styles, colors, materials, sizes, and shapes, so they are appropriate for nearly every landscaping project and design.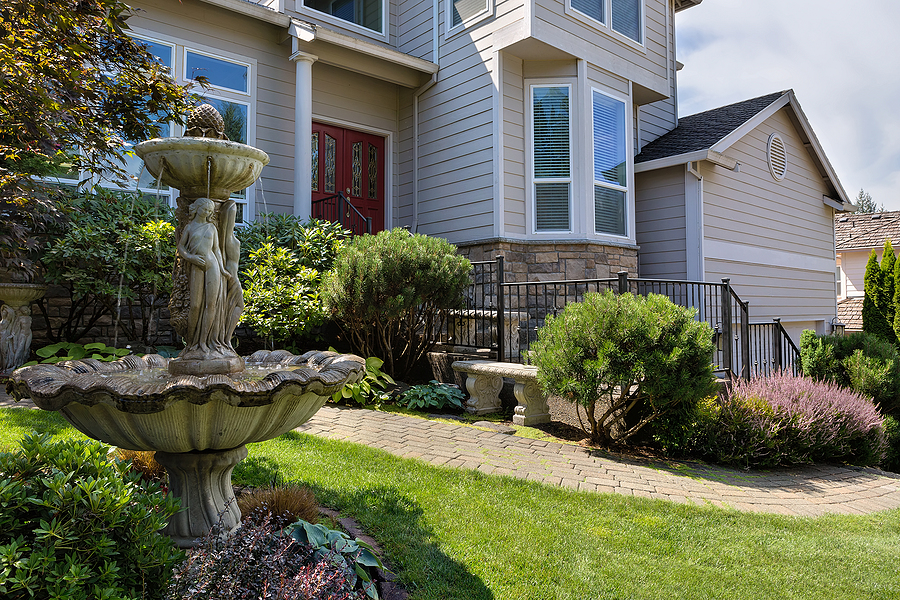 Landscape Pavers Can Help Define Specific Areas
Landscape pavers are an excellent way to highlight and define specific areas of your landscaping. Pavers can draw the eye to these focal points. Any hardscaping feature, such as a sitting area, gazebo, pergola, pool, pond, or outdoor structure can be enhanced by landscape pavers.
Using landscape pavers to create edging strips and mowing strips will make landscape maintenance much easier. Separating your grass from your beds has practical and aesthetic benefits. Without edging, you'll be pulling grass from your beds and have mulch spilling from the beds out onto your lawn. A landscape paver mowing strip will not only keep your beds neat and defined, but will improve the overall look of your landscaping.
Use Landscape Pavers for Your Driveway
Your driveway is a big focal point of your property. A landscape paver driveway will add a high-end look to this very functional space. A custom paver design can match the style of your home and create a unique look that will enhance your curb appeal. There are a wide variety of landscape pavers that can be designed for just the right look. In addition, a driveway constructed from landscape pavers is often longer lasting, as the stones will not crack with the movement of the earth underneath.
Landscape Pavers are Perfect for Walkways, Garden Paths, and Stepping-Stones
Walkways, paths, and stepping stones can lead guests around your property. Whether winding or straight, a garden path will lead the eye through the landscaping and add charm. Stepping-stones create a natural look. If there is a grade change, steps can be incorporated into a walkway for safer walking paths. Walkways, garden paths, and stepping-stones not only lead the way around the property, they can also draw the eye to specific areas you want to highlight.
Landscape Pavers Enhance the Look of a Patio
If you have a simple outdoor patio, a custom paver stone design will add more character and enhance the look of your outdoor living space. Using landscape pavers for your patio allows you to incorporate interesting designs. Paver patios are significantly more impressive than a patio of poured concrete and can be designed in unique ways to showcase your style. Paver patios can be configured into different shapes and can even be constructed in a way to define specific areas of the patio, such as an area for outdoor dining, an area for seating, and built in garden beds.
When you begin your design and want to incorporate landscaping pavers, work with your landscape contractor. They will have the knowledge and experience to guide you through the process and they have an eye for seamlessly incorporating pavers into your landscape design. Contact Twin Oaks Landscape today to learn more about how we can custom design your landscape using pavers to improve the look and feel of your outdoor oasis.
"We recommend Twin Oaks to any entity looking for a full-service, talented, and responsive provider."
Therese Mahoney
Secretary/Treasurer of Doral Creek Condominium Association, Ann Arbor, Michigan