June 17, 2021
A cracked, uneven, and stained driveway can negatively impact the curb appeal and overall aesthetic of your home. If you are putting effort into maintaining and upgrading the interior and exterior of your home, you need to pay just as much attention to the driveway. Rather than repaving or refinishing your driveway with traditional concrete, which can quickly stain, crack, or develop bumps, consider overhauling your driveway with landscape pavers.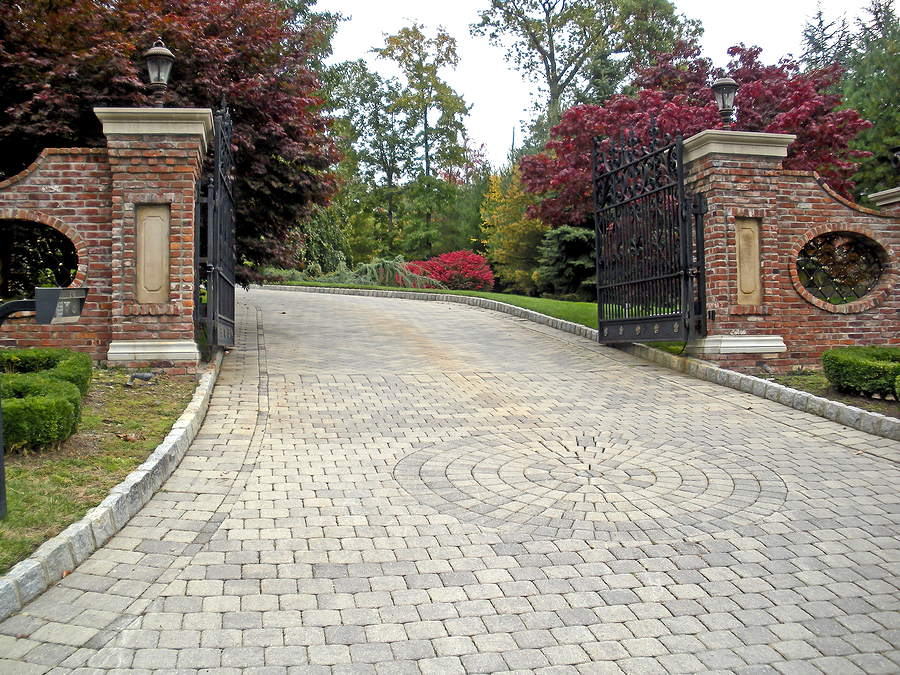 Choosing Landscape Pavers for Your Driveway
Landscape pavers were originally made of stone and clay, but they can also be made of cement aggregate, which is a combination of cement and rock. Paving stones are now one of the most durable materials for driveways on the market. Traditional concrete driveways will crack over time. Settlement in the earth, nearby tree roots, and weight overload can all crack a traditional driveway. Cracks let in water, which can cause the expansion and contraction of the concrete, which will cause more cracks. Many homeowners do not have the time and ability to stay on top of repairing the cracks, and if the cracking is not dealt with immediately, the problems will become bigger. Even when cracks are repaired, the aesthetic will not be pleasing. Resurfacing may be an option, but will typically not fix the problem long term. These drawbacks to a traditional concrete driveway are not present in a driveway designed with landscape pavers.
Benefits of Landscape Pavers
There are many benefits to using landscape pavers for your driveway. Pavers are much more aesthetically pleasing than concrete. They will add elegance and improve your curb appeal. Pavers are available in a variety of colors, textures, and styles and can be installed in different designs. Unlike concrete, pavers will not crack. Pavers are designed to move and flex with the earth because of the sand between the pavers. Pavers are exceedingly durable and designed to last. Most pavers will come with a lifetime warranty. If one or more landscape pavers are damaged for whatever reason, the damaged pavers can easily be replaced without needing to replace the entire driveway. Pavers are easy to maintain. Cleaning with a simple solution is typically all that is needed, and if you use a paver sealer, water is all that is needed for upkeep. Finally, pavers usually provide more traction than traditional concrete. The surface is non-skid and non-slip, making them ideal for many climates.
Upgrading Your Driveway
While installing landscape pavers alone will upgrade your driveway, especially with all the variety in colors, styles, and designs, you can enhance your curb appeal even more with additional features.
Outdoor lighting can enhance any driveway. There are many styles of outdoor lighting. Lights on posts or pillars, built in lights at ground level, or pagoda-style lights alongside the driveway are all good choices to highlight a driveway of landscape pavers.
A gate will always give the impression of elegance and status. Pillars at the base of the driveway will greatly enhance curb appeal.
Adding a border with a contrasting color or style will help upgrade the driveway. A raised edge can have the added benefit of protecting your landscaping as well as defining the driveway.
A walkway leading to the front door or backyard in the same style of landscape pavers as the driveway can help tie the driveway into the rest of the landscaping features.
Landscape pavers can make your driveway stand out and will give guests and visitors to your home the best impression of the pride you take in your property. Speaking with a landscaping professional is the first step in creating a driveway you can enjoy for a long time. Contact Twin Oaks Landscape today to learn more.
"We recommend Twin Oaks to any entity looking for a full-service, talented, and responsive provider."
Therese Mahoney
Secretary/Treasurer of Doral Creek Condominium Association, Ann Arbor, Michigan