September 20, 2023
It may feel like we still have plenty of warm weather to enjoy, but the first freeze will be here soon, and that means it's time to schedule your irrigation system winterization. Scheduling your irrigation system winterizing process with a landscape service specializing in irrigation system installation and maintenance is the best way to keep your system working well.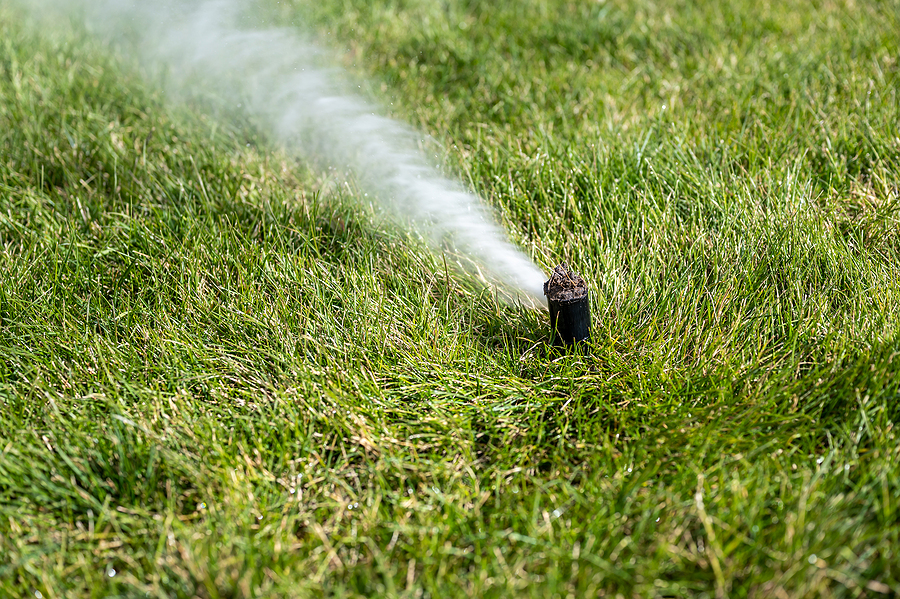 Why Does a Lawn Irrigation System Need to be Winterized?
Your lawn irrigation system is an intricate network of parts. Valves, pipes, fittings, and other components work together to keep your system working to provide irrigation to all your landscaping. Icy weather can cause serious damage to the system if it is not prepared for a cold winter. When the pipes aren't cleared, the water remaining inside will freeze, and with no room for that frozen water to expand, the pipes will crack and burst. Underground pipes are very costly to repair and will require digging out and re-piping, and this may be needed for the entire sprinkler irrigation system if any water remains over the winter. If water is trapped in the sprinkler heads themselves, the pressure of freezing water can cause the heads to pop off and break. If water freezes in the body of the sprinkler, the sprinkler itself can burst. All this damage can be extremely time-consuming and expensive to repair
When to Winterize a Lawn Sprinkler System
You should fully winterize your lawn irrigation system before the first hard freeze. Ideally, you should winterize your system in the early fall, at the end of the growing season but before the risk of a hard freeze is looming. Winterizing involves draining all your lines to the lawn irrigation system and blowing them out using an air compressor to ensure that absolutely no water remains in the lines over the winter. Water supply will need to be shut off, and any necessary irrigation system repairs will be dealt with. By the end of September or beginning of October, you should have talked to a landscape contractor about scheduling winterization to ensure it is done before it's too late.
How to Winterize Sprinkler System
The first step to winterizing your lawn sprinkler system is to turn off the water to the system, followed by shutting down the controller. If your system has "rain mode", you can turn this on, which will shut off the signals to pull water into the valves. After turning off the lawn irrigation system, all the water will need to be drained from the underground pipes. When the water is off, turn on a station of the system to reduce the pressure and open the drains on the line. To make sure all the water is out, you can try using a siphon or a shop vacuum to clear the pipes. There is still a chance your pipes will have water, so the next step is to blow out the pipes. This can be dangerous, as you will use compressed air to blow through the pipes to thoroughly drain and dry them, but will need to make sure you do not damage the system through this process. After confirming all the water has been dried within the system, cover the rain sensor for the winter, replace all caps, and check all components for damage.
What are the Benefits of Using a Professional to Handle Winterizing the System?
While it may be possible to winterize your system yourself with an air compressor, it may not be the most efficient or effective solution and will often not save you any money. Winterizing correctly can be time consuming. In addition, many homeowners tend to put off the chore until they are confronted by the first freeze and damage has been done. By attempting to DIY this chore, you will likely put yourself and your system at risk. Compressed air can cause injury to you and damage to the system, and it is very easy to miss a step in the process or cause damage to the system with a mistake. Winterizing a system incorrectly can result in costly repairs. Landscaping contractors who install and maintain irrigation systems are familiar with the process of winterization, and can get the job done correctly before freezing is a concern. They will also know what to look for if problems arise.
If you've invested in a lawn irrigation system, invest in regular irrigation system maintenance to keep your system working well. Having a professional to maintain, winterize, and repair your system ensures that no problems will go undetected and you can enjoy a beautiful lawn and landscape as a result. To schedule an irrigation system shut-off, contact Twin Oaks Landscape today!
"We recommend Twin Oaks to any entity looking for a full-service, talented, and responsive provider."
Therese Mahoney
Secretary/Treasurer of Doral Creek Condominium Association, Ann Arbor, Michigan