May 10, 2023
Winter is finally coming to an end, which means that it is time to start thinking about spring yard clean-up. The longer the winter months drag on, the more likely it is that your yard has been neglected and needs some help to get back into shape. With that in mind, the following is a checklist that you can follow when cleaning up your yard this spring.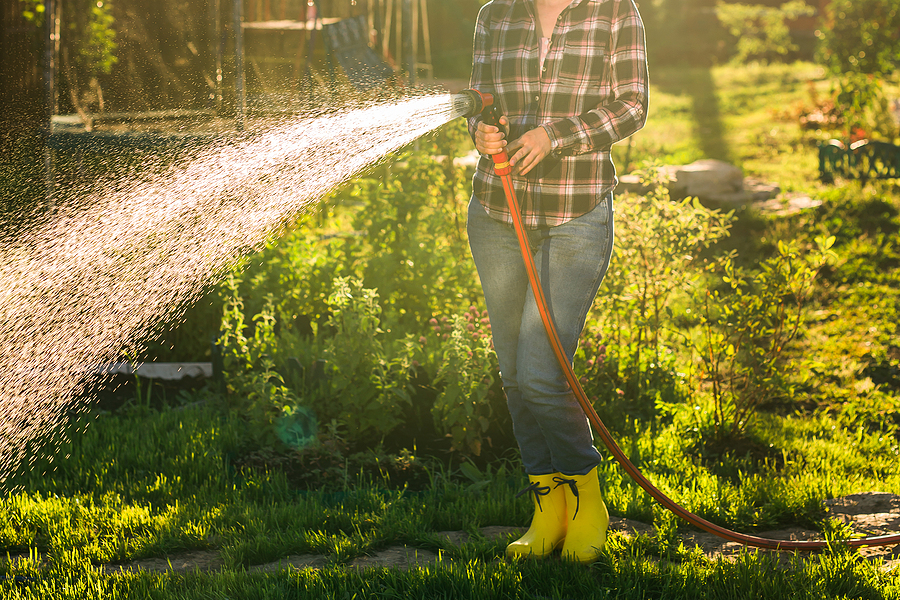 Clean Up Leaves and Debris
A big part of spring yard clean-up is removing leftover leaves, twigs, and other debris that has accumulated over the winter. It's essential to get rid of these items so that you can give your lawn a chance to breathe and prosper. Otherwise, it could become a breeding ground for mold, pests, and diseases. Rake up leaves, twigs, grass clippings, and other debris and remove them from your lawn.
After a long winter, dead branches may have accumulated in your yard or on your trees. Dead branches are not only unsightly and can make your yard look neglected, but they also present a safety hazard after heavy storms. TOL can have professional tree work completed safely; so, give us a call…
Cut-back/Trim Perennials & Grasses
Perennials and grasses can benefit from a thorough trim back in the spring. Remove any dead stems or foliage and prune away any overgrown plants to promote healthy growth for your perennials. It helps to know the tolerances of your plants so that you can trim them properly. Additionally, watch for beneficial bug cocoons on your plants before you start clipping away.
If you are lucky to see Praying Mantis egg sacks, or even Monarch Butterfly chrysalides, try to leave them alone if possible. These 'critters' are important for the health of our environment and your plants. In the case of the Praying Mantis, they can provide free pest control for those bugs that want to infect and devour your plants; And of course the wonderful Monarch Butterfly provides pollination for plants almost world-wide!
If your lawn suffered damage during the cold winter months, it's important to repair any bare spots and reseed them with grass seed. Lawn aeration can also be a beneficial maintenance service to help your lawn get back, and keep, a lush and vibrant state.
Early spring is the perfect time to give shrubs and hedges a "haircut." Shearing or pruning back small shrubs helps to promote new growth and a fuller, healthier plant.
Clean Up or Create Natural Edging
Natural edging helps define the edges of your lawn and beds and can add a neat and tidy look to your landscape. Create natural edging by cutting away turf along the edges of paths, flower beds, and other landscape features, being sure to remove any turf from encroaching into your planting beds.
Mulch protects your plants from extreme weather, as well as helping the soil retain moisture and a balanced temperature. It is important to mulch properly in all of your landscape beds and plantings. Create a flat layer of mulch with no "volcanoes" around your trees. Also, lighter, more carefully placed mulch is better for perennials, while heavier mulching can be used around the edges of the beds, and to create narrow "access paths" within larger beds. Additionally, avoid large piles of mulch in your lawn.
Hedges require regular maintenance in spring, and again within this current growing season to keep them in good form. Clip new growth back to help maintain shapes, but don't clip too much, or it could stunt leaf growth. Timing and amounts are both very important considerations for hedge-clipping.
Once spring hits, it is important to begin mowing regularly to keep your lawn healthy and beautiful. Avoid any wet spots in your yard, as mowing a wet lawn can cause damage and result in bald patches.
Check your beds for weeds regularly throughout the growing season and remove them as soon as possible. Weeds can steal nutrients from the soil and crowd out other plants.
Implement Integrated Pest Management (IPM)
You'll want to take steps to prevent pest infestations from developing, as they can wreak havoc on your plants. IPM is a holistic approach to pest control that combines preventive measures, physical methods, and specific, well-timed treatments to minimize the impact of pests on your property.
Spring is a great time to add color and texture to your garden with annuals, bulbs, perennials, and more. When transplanting plants, water them well and provide enough space for their roots to grow. If planting from seed, research the plant's requirements, as some seeds need to be started indoors before they can be transplanted outdoors.
Pruning involves first removing any dead, damaged, or diseased stems and branches. Proper pruning, at the right time, will promote healthier growth for your plants and flowers. Yet, it is very important to know what your specific plant needs and tolerances are before you start pruning.
Watering is key to keeping your plants healthy and hydrated. Make sure to check the soil moisture levels 2-3 inches below the surface, especially for newly planted plants, to ensure that your plants are getting enough water.
Cleaning up and maintaining your yard throughout spring is critical to keeping your landscape healthy and looking its best. However, doing so can be time-consuming and challenging if you don't have the experience and know-how.
As such, you can consider working with a professional landscaping service. For more information about our landscaping maintenance services in Ann Arbor, MI, contact us at Twin Oaks Landscape today.
"We recommend Twin Oaks to any entity looking for a full-service, talented, and responsive provider."
Therese Mahoney
Secretary/Treasurer of Doral Creek Condominium Association, Ann Arbor, Michigan