July 30, 2021
For healthy plants and a property that looks beautiful and well-maintained all season, there is plenty of upkeep you'll need to stay on top of. Water, mulching, weeding, pruning, and fertilizing all need to be completed at the right times and in the right balance for a beautiful garden of perennials.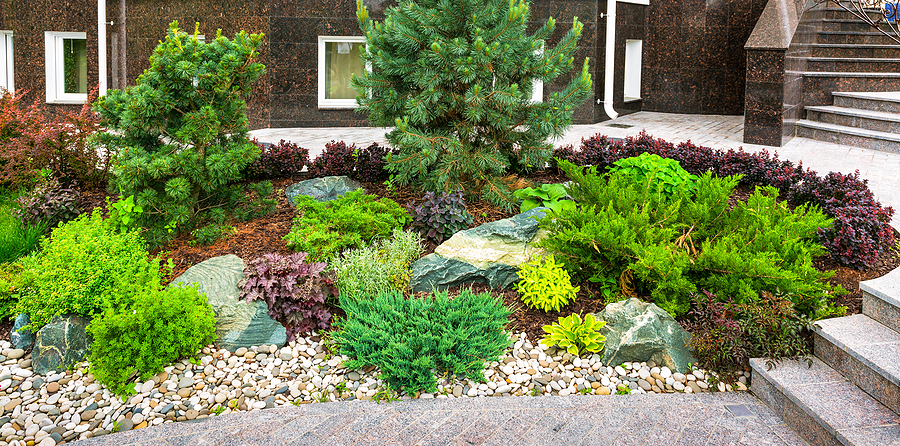 Best Way to Water for Healthy Plants
We all know that plants need water to survive and thrive. Yet flower beds of annuals, vegetable and herb gardens, perennials, shrubs, and lawns all have different needs when it comes to the amount of watering as well as the frequency. You'll need to take your climate, the average rainfall, the composition of your soil, the slope of your property, and the amount of sun your plants get into consideration as well. Sprinklers and garden hoses will do the job, but it's time-consuming and somewhat wasteful. The better solution is an irrigation system. Working with a landscaper can help you determine the right areas for pop-up sprinklers, drip irrigation systems, and soaker hoses.
Keep Healthy Plants by Mulching Appropriately
Mulch keeps the soil moist, the roots cool, prevents weed growth, and adds a protective layer that will aid in growth. Mulching can help your plants survive the temperature swings of spring and fall, which is why mulching is such an important part of spring and fall clean up. Perennials may need a thicker or thinner layer of mulch as the seasons change. Too thick can encourage mold and fungal growth, while mulch that is too thin may not provide the right protection. Speaking with a landscaping contractor about the best way to mulch for healthy plants can help you determine what you need.
Keep Up with Weeding and Pruning
Most homeowners understand the importance of keeping up with weeding. If you let this task slide, even for a few days, you can quickly end up with a situation that is out of control. If a weed grows big enough for a seed pod, the seeds will scatter and you can quickly end up with hundreds of seeds sprouting hundreds of weeds for every irritating intruder you didn't pull.
When you don't prune, your perennials can quickly become overgrown, crowding out other plants and flowering less. Pruning is not only vital to maintaining the plant's size, it will keep a flowering plant in bloom longer. Different plants need to be cut back at different times of the year. A good landscaping contractor knows the best time to prune and cut back each perennial. Some varieties of perennials will bloom more than once a season if they are pruned at the correct time.
Make Sure You Understand How to Fertilize
Too little fertilizer means that your plants won't thrive. They may not have the right amounts of nutrients from the soil to bloom and grow their best. Too much fertilizer means that your plants won't thrive either. If you over-fertilize, the plants will put their energy into growing new stems and leaves, rather than flowers or vegetables. For healthy plants, you need just the right amount.
Landscaping Contractors are There to Keep Your Garden Thriving
Maintaining a beautiful garden and property is easy when you hire a landscaper to ensure that your plants, lawn, and gardens are given the attention they need. A landscaping contractor is the best solution for healthy plants. These experts understand the climate, the soil, the plants, and exactly how to work all the elements together for the best results. When you hire a landscaping contractor, the hard work is taken out of your hands, and you know that your property will always look great.
Keeping up with the weeding, pruning, watering, mulching, and fertilizing can quickly become a time-consuming job that many homeowners simply don't have the time or expertise to tackle. To keep your perennials looking great through the growing season and beyond, looking to the experts is well worth it. Contact Twin Oaks Landscape today to learn more about how we can help you enjoy your property more than you already do.
"We recommend Twin Oaks to any entity looking for a full-service, talented, and responsive provider."
Therese Mahoney
Secretary/Treasurer of Doral Creek Condominium Association, Ann Arbor, Michigan