June 22, 2021
A good landscape design serves two purposes. A beautifully landscaped home will enhance your curb appeal and property value, which is important to many homeowners. In addition, landscape design that incorporates hardscapes such as stone pavers and water features will provide functionality and enjoyment for you and your guests. To enhance your outdoor living space, adding hardscapes to your design is a must.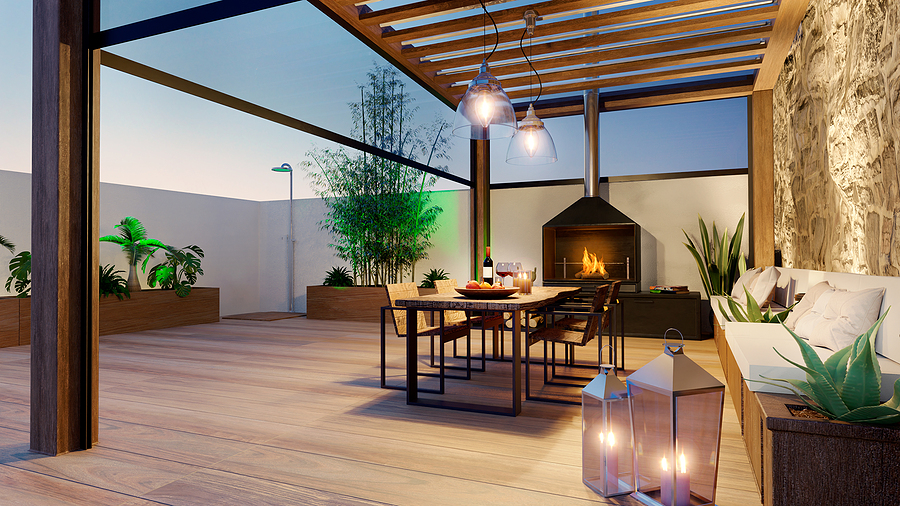 Driveway Pavers Add Curb Appeal
You may not think of your driveway when you are considering hardscape design, but using pavers to create an elegant and original driveway will make a bold statement and increase your curb appeal. Concrete and asphalt are purely functional, but driveway pavers show the importance you place on the visual impact your property makes. In addition to the aesthetic appeal of a driveway designed with pavers, you can incorporate a pathway for your guests using the same style of pavers to connect all the outdoor hardscaping elements of your home and allow all of your outdoor spaces to follow a flow.
Upgrade Your Patio
A paver patio is a beautiful way to incorporate hardscape design into your property, but the patio is just the beginning. A simple patio with a table and grill may not do much to enhance your property, but upgrading your patio to the next level can truly enhance your outdoor living space. An outdoor kitchen, which can be as simple as a built-in barbecue or as complex and functional as a full kitchen will make a great impact on your patio as an entertaining space. Many homeowners will add a built-in fireplace or fire pit to the patio for a comfortable and beautiful gathering place in the evenings. Some homeowners will enhance their patio by incorporating stone steps to another level and define different seating areas for entertaining. When the patio is upgraded and arranged well, it can truly become more than just an outdoor living space and more like an outdoor room.
Use Hardscapes to Define Spaces
Entertaining areas, such as patios with dining areas, are only the beginning of the defined spaces you can create with hardscaping. Consider who you are as a homeowner and what you want your property to say about you. If you have an eye for gardening, use hardscaping to create paths leading to various flower gardens, retaining walls, and raised beds. If you want your home to be a place to entertain and enjoy, create seating areas throughout the property with pergolas, arbors, and water features. If you enjoy a more active entertaining experience, use hardscaping to create areas for outdoor activities, such as a putting green, a pool or hot tub, and a defined area for lawn games. Hardscaping can define areas to enjoy the sun and areas to rest in the shade.
Finding the right balance of hardscape design along with your softscape landscaping can be a challenge. While hardscape elements provide beauty and function to your property and will allow you to entertain and enjoy your property, they can be overwhelming when not designed correctly. Finding the right team  who will understand you and your vision for your outdoor living spaces is crucial to achieving the right hardscape design. Contact Twin Oaks Landscape to learn more about how your property can be transformed with the right landscape design team.
"We recommend Twin Oaks to any entity looking for a full-service, talented, and responsive provider."
Therese Mahoney
Secretary/Treasurer of Doral Creek Condominium Association, Ann Arbor, Michigan