May 8, 2020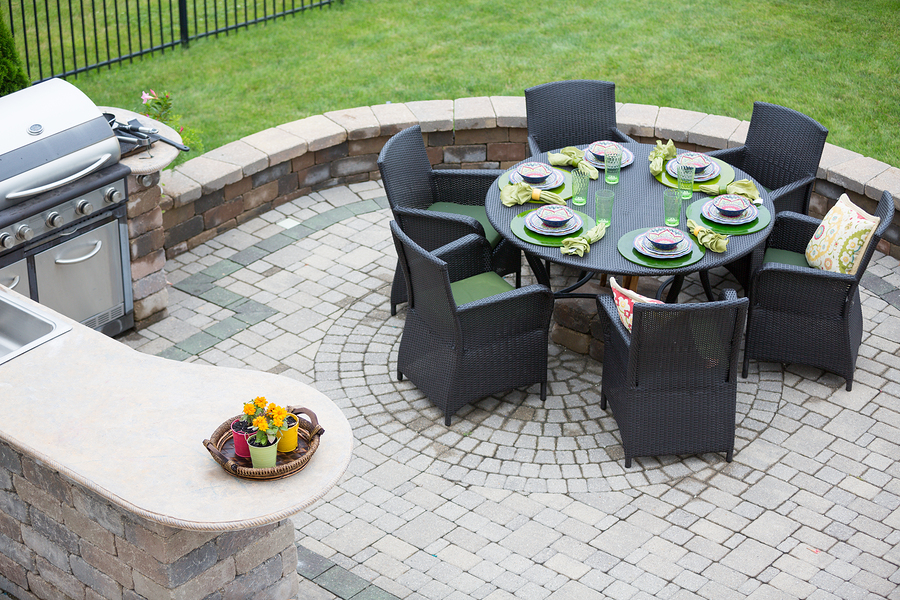 Most of us are spending more time at home lately, and now that spring is here we will be able to enjoy our outdoor spaces. The weather is warmer, the days are longer, and getting outside feels great. If you've been considering adding hardscapes to your outdoor living space, now is the perfect time to finalize those landscape design plans.
Which Hardscapes Should You Consider for Your Landscape Design Plans?
There are many hardscapes that can enhance your outdoor living spaces. Patios, pergolas, fire pits, retaining walls, steps, and water features are all additions that will make your outdoor space a place where you'll want to spend your time.
Water features can offer calming effects. These are often statement pieces that compliment nearly every landscape. From koi ponds to water walls, they can add interest and beauty.
Pergolas, arbors, and trellises offer form and function to your plants. They can add dimension, height, and beauty, as well as defining certain spaces. A pergola over a sitting area can support lights, speakers, and even a ceiling fan. Arbors and trellises support climbing vines and offer focal points in gardens.
Fire pits and fireplaces are excellent for outdoor entertaining. Patios are the foundation for outdoor living spaces and can serve as an extension of your home.
What Factors Should You Consider When Choosing Hardscapes?
Hardscapes are the perfect way to expand your home's living area outdoors, because they compliment the "softscapes" – the trees, shrubs, and flowers. Would you prefer your hardscape additions to be decorative or practical? Are you looking for small additions or a large project? What budget are you working with? Choosing the right material for your region is important, too. Certain types of stone or wood will work better with different climates.
Installing the Hardscapes
When it comes to installing hardscapes into your landscape designs, it's best to leave this to the professionals. Local landscape contractors may have suggestions as to which materials to use for each project and will be able to arrange for things like water and gas lines to be run to water and fire features. A professional will be able to take your landscape design plans and guide you toward hardscapes that will enhance your outdoor living area into a space that is functional and attractive.
Whether you have a major project in mind or just a small landscape enhancement, now is the time to get those plans in motion. Spend more of your time enjoying your outdoor living spaces by contacting us today!
"We recommend Twin Oaks to any entity looking for a full-service, talented, and responsive provider."
Therese Mahoney
Secretary/Treasurer of Doral Creek Condominium Association, Ann Arbor, Michigan