May 30, 2017
A gazebo can be an beautiful focal point and gathering spot for your backyard. However, the process of picking one out and shopping for it can be daunting. It can be overwhelming just knowing where to begin. If you are considering a gazebo for your yard, use this guide to help you identify what you want and how you should prepare for it.
What Will Your Gazebo Be Used For?
The first step in figuring out what type of gazebo will work best for you is to decide what you intend to use it for. There are nearly endless possibilities, but ultimately, the functionality of the gazebo should be of serious consideration when you are trying to decide which one you want. Below is a list of several different uses for a gazebo to help you determine which one will work best for you.
Common Uses For A Gazebo
A gathering or ceremony like a wedding.
A place to get away and relax in the shade.
Increase the value of your home or make it more appealing to potential buyers.
A place for entertaining guests and hosting dinner parties.
A cool and shady place to exercise outdoors.
Common Types Of Gazebos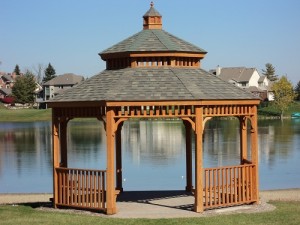 While there are many different varieties or types of gazebos, they generally tend to come in two different styles; vinyl and wood. When built with wood, it is standard to build a gazebo with a very sturdy type like cedar or pine. Some people prefer the aesthetic appeal of a wood gazebo, while others enjoy the low-maintenance of the vinyl. When trying to design your gazebo, you have a lot of different options to consider. Here is a breakdown of some things to compare when trying to draw up your design plans:
What To Compare:
Shape -squares, ovals, circles, and octagons are among the most common options when it come to shapes for gazebos
Size – the size you select will depend on the size of your yard, as well as, what you intend to use it for. The smallest gazebos tend to average around 8×8, while the larger ones can be as big as 20×40.
Siding – When selecting the siding for your gazebo, make sure that it will hold up well in your climate. For example, if you live in an area that is affected by tornadoes or hurricanes, you will want something more sturdy than vinyl.
Railings – choose a style of railing that will match both the siding and the exterior design of your house.
Roof – the standard options for a gazebo roof are the pagoda and the cupola, as well as, the tiered. However, you can stray from the norm and get creative if you really want your gazebo to stand out.
Amenities – If you plan to spend a lot of time enjoying your gazebo, there are endless ways that you can enhance it, including televisions, a bar, lounge furniture, heating, and cooling. You can also decorate it to make a true oasis right in your very own back yard.
When preparing for the construction and installation of your new gazebo, you will not only need comprehensive design plans drawn up, but you will also need to allocate a budget for your gazebo building project. Your budget will likely play a significant role in the options you select for your gazebo.
"We recommend Twin Oaks to any entity looking for a full-service, talented, and responsive provider."
Therese Mahoney
Secretary/Treasurer of Doral Creek Condominium Association, Ann Arbor, Michigan