October 12, 2020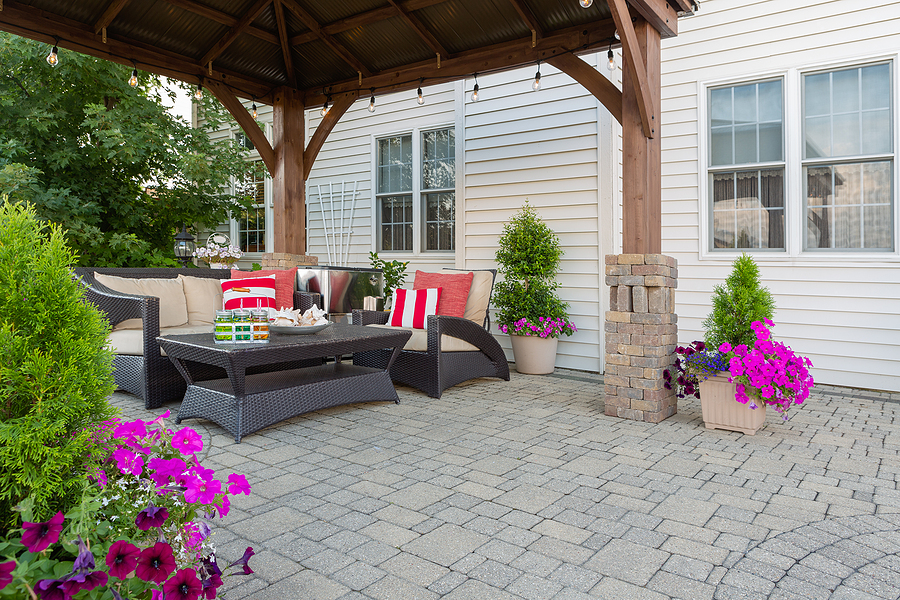 If you are looking to add or expand your outdoor living space, you may be considering a brick paver patio. A brick paver patio can have endless design options, from a small intimate space for your family to relax, to a larger area for entertaining guests. Your patio design should reflect who you are as a homeowner. When you are starting to plan for your brick paver patio, there are a few important considerations.
Sizing Your Brick Paver Patio
The size of your yard will often dictate the size of your patio. Many people think that if they have a small yard, a patio isn't a viable option, but a good company can work with the space that you have. Planning your outdoor space with a landscape contractor will help maximize your square footage to give you an outdoor living space that will suit your needs and look great too.
Consider How You'll Use Your Patio
It is important, when designing your patio, to think about how you want to use the space. If you are picturing evenings spent outdoors, you may want to incorporate lighting, heaters, or a fire pit into the design. If you anticipate having your meals outdoors, you will want to leave room for a grill, outdoor kitchen, table, or even bar area. If you think you will spend warm afternoons on your patio, a framework for climbing vines, an awning, or a pergola will make the space more comfortable. Look at where the sun will hit at various points in the day to make sure that you are designing a space you will be comfortable using.
Design Elements to Incorporate
The basics of design are where you will start when designing a brick paver patio. First, you'll look at the style of paver you want to work with. There are tumbled (weathered) pavers, non-tumbled (smooth) pavers, and embossed pavers. After you decide on the style of paver, you will look at the colors available. Typically, most designers will recommend staying in the same color family as your roof and trim, but sometimes a contrasting color can really make the space pop. Once you know what style of pavers you may want, there are many design layouts to choose from. Some are straightforward, such as a staggered rectangular pattern, while others have an artsy twist with geometric shapes.
Beyond the basics of choosing the pavers and the pattern you want them laid in, you can add on to your design with additional features. A sitting area, water feature, or a fire pit can truly transform your patio into an outdoor living space.
The outdoor entertaining season may be cooling down, but it's never too early to start planning an upgrade for your outdoor living space in time for the warm weather's return. Speaking with a landscape design professional now about the ideas for your brick paver patio will ensure that you can start using your patio as soon as the weather gets warm again. Contact Twin Oaks Landscape today for more information about our brick paver patio installation.
"We recommend Twin Oaks to any entity looking for a full-service, talented, and responsive provider."
Therese Mahoney
Secretary/Treasurer of Doral Creek Condominium Association, Ann Arbor, Michigan