September 16, 2020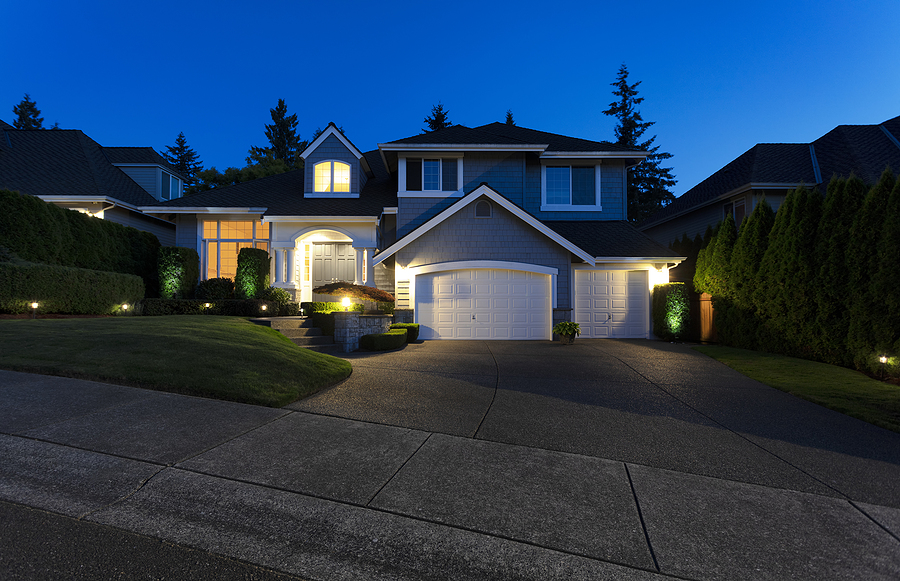 If your home doesn't already have outdoor lighting, you may have considered installing it. If your home is beautiful during the day, it can be just as beautiful at night with the right lighting design. There are plenty of benefits to installing outdoor lighting and it doesn't have to be expensive. Outdoor lighting can fit many different budgets, enhance the look of your home, and make your home more secure. 
Well Lit Outdoor Areas are More Secure
Most homeowners are drawn to outdoor lighting for the aesthetic appeal. But lighting the exterior of your home is a smart choice to increase security and discourage intruders. Security lighting doesn't need to be harsh or startling to be effective, and outdoor lighting designers can help you find fixtures that provide both home security and beauty. In addition to deterring intruders, lighting your steps and walkways will make your home safer for you and your guests after dark.
Outdoor Lighting Can Highlight Architectural Features
The trends in outdoor lighting are more focused on aesthetics at the moment. Homeowners want to highlight the architectural features of their home and the landscape features on the property. Using LED lights can accentuate outdoor focal points, such as swimming pools, fish ponds, fire pits, fountains, and decks. LED lights are long lasting and energy efficient, and they can draw the eye to these features when entertaining after dark.
Outdoor Lighting Improves Curb Appeal and Enjoyment of Outdoor Living Spaces
A landscape lighting designer can help you choose outdoor lighting that will improve the curb appeal of your home. If you have invested in outdoor living spaces, installing outdoor lighting is essential to ensure that you are getting the full use of those areas. A professionally installed system can be set up for the specific needs of your property, which will allow your lighting designer to focus on the areas that will improve the curb appeal.
Where to Install Outdoor Lighting
Knowing where exactly to place your outdoor lighting is where the experts can really help you. There are several techniques used, such as:
  Highlighting – placing the light at the base of a feature.
  Silhouetting – placing the light behind the feature toward a wall.
  Shadowing – at the base of a feature toward a wall.
  Washing – a few feet away at an indirect angle toward a wall.
  Up-lighting – a more direct angle than washing.
  Down-lighting – placed in an eave, trellis, or hardscape and shining down.
  Moonlighting – soft fixtures placed high and angled down.
  Accenting – angled up or down with a narrowed beam.
  Path-lighting – staggered and illuminating a path, especially at any steps or bends.
In-grade – installed on the surface, usually at the base of a stone wall or hardscape.
  Pool – submerged near steps.
Consulting an expert can help you understand which techniques will work best for your property. A landscaper who understands outdoor lighting will know the right heights, distances, and which techniques to best highlight the features of your home.
Security, safety, curb appeal, and increased enjoyment of your property are all benefits of installing outdoor lighting. Working with a landscaper who understands your property, needs, and budget can help improve your home. Contact Twin Oaks Landscape today to talk about new outdoor lighting for your property.
"We recommend Twin Oaks to any entity looking for a full-service, talented, and responsive provider."
Therese Mahoney
Secretary/Treasurer of Doral Creek Condominium Association, Ann Arbor, Michigan