June 26, 2019
There's nothing quite like having a large yard — yet you'd be surprised how many homeowners barely get any use out of their yards. This is often because they simply have no way to use it. It's why if you have a large backyard space, you should consider building a patio so that you have a reason (and a way) to spend more time outside. In fact, building an outdoor living space will give you a space where you can enjoy your yard in peace and quiet, where you can spend some much-needed family time together, and where you can host guests at social gatherings. Not to mention that building a patio is a great way to add value to your property. Keeping all that in mind, we recommend building your patio using brick pavers.
Build a Patio
Although you can build your patio using a variety of different materials, brick pavers are one of the best options. There are many reasons for this. First of all, they are very durable. Even if a brick is damaged, you can simply replace that brick. Secondly, they offer a lot of grip, making them safe to walk over. Thirdly, they are easy to maintain. When properly sealed, you'll rarely have to worry about things like mold growth, weed growth, oil penetration, and insect penetration. Not only are they available in a variety of colors and styles that can match the style of your house, but they can be arranged in different patterns to add even more visual interest to your patio.
Other Patio Features to Think About
An outdoor patio should be designed in a way to promote comfort. You're not going to use your patio if it's not comfortable and convenient for you to do so, after all. The following are a few features that you might want to plan on adding once your brick paver patio is installed:
Seating – If you want the patio to be more of a personal space for you and your family, a small table with chairs may suffice. However, if you plan on having guests over regularly, you may want to consider a more open layout. For example, you may want to set up an outdoor couch and a few chairs, essentially creating an outdoor living room.
Shade – If you don't have any trees providing shade to your patio space, you might want to consider other options for those hot summer days. A large umbrella will work fine for a smaller patio. If you're building a patio meant for entertaining, consider building a pergola if you have budget for it.
Lighting – Don't forget to add lighting so that you can safely use your patio at night. If your patio is against your house, wall lighting may suffice. Otherwise, consider strings of electric lights or lanterns.
Outdoor Kitchen
Outdoor kitchens are gaining popularity, even here in Michigan. What used to be reserved for only mild climates is now adapting to areas that experience seasonal changes as well. Having an outdoor kitchen installed provides a lot of benefits, especially if you're someone who enjoys entertaining. If your current outdoor space accommodates your social gatherings, but you find yourself toting snacks and beverages between your outdoor living space and indoor kitchen constantly, consider having an outdoor kitchen installed. That way you're always in the heart of the party, even when you're cooking and serving refreshments.
Fire Pit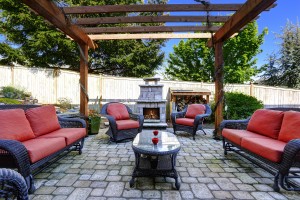 Who doesn't love a campfire? Adding a fire pit to your backyard is a great way to make your outdoor living space more enjoyable.  Michigan residents who have a fire pit feature in their landscape are able to enjoy their outdoor living space much more often. As you know, it's pretty common to have chilly evenings in Spring and Fall, but sometimes the temperature dips on Summer evenings too. Having a fire pit ensures you'll be enjoying your outdoor living space as much as possible.
Paver Walkways
Adding paver walkways throughout your landscape is a great way to maximize your outdoor living spaces. You can use paver walkways to connect patios to driveways, flower beds and gardens, and even a path to connect front and back yards-the possibilities really are endless. Professionally installed paver walkways are low maintenance and look great too.
Retaining Walls
Retaining walls are necessary and chances are, if you have a retaining wall it could use a little updating. Having a retaining wall replaced or installed goes far beyond function. They can be aesthetically pleasing in addition to holding back the earth by serving as a back drop for flower gardens, a place to display your address near the road, or a place to sit and enjoy the view.
For more information about enhancing your outdoor living space, contact us at Twin Oaks Landscape in Ann Arbor, MI, today.
"We recommend Twin Oaks to any entity looking for a full-service, talented, and responsive provider."
Therese Mahoney
Secretary/Treasurer of Doral Creek Condominium Association, Ann Arbor, Michigan