July 2, 2015
Relax in the Summer with a Customized Backyard Fire Pit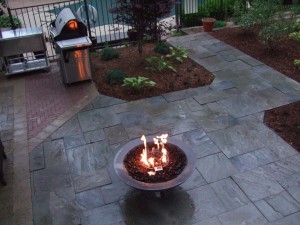 If you live in Ann Arbor MI, then you probably love to spend time outside in the warm summer months with family and friends. One of the best and most affordable places to relax and entertain is in your own backyard. It is possible to make a home's backyard an attractive location similar to what is seen at hotels and restaurants with an outdoor fire pit.
There are great reasons to install a stone, or brick fire pit in your own backyard instead of needing to drive to a local park to grill food. While many individuals assume that fire pits are simply a temporary fad, people naturally gravitate to a beautiful fire with its flickering flames.
One: Creating an Attractive Ambiance in Your Own Backyard
A gorgeous home that meets your personality leads to better mental health because it helps to reduce stress and anxiety after a long day at work or school. There are numerous ready-made outdoor fire pits available at stores, but it is also possible to have one custom designed by a landscape architect. Imagine inviting friends and extended family to your home for a summertime barbecue and showing off a one of a kind fire pit that is surrounded by seating such as benches and chairs.
Two: Creating a Great Place Outside to Cook Meals
There is nothing like cooking food outdoors to give it great flavor. Some of the foods that you can prepare with a fire pit's heat include:
• Chicken wings
• Steak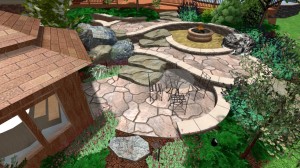 • Pork chops
• Grilled salmon
• Corn on the cob
• Pizza
• Hot dogs
• Hamburgers
• Roasted marshmallows
Both children and adults enjoy tasty meals prepared over wood, charcoal or propane heat because food develops a delicious flavor. Preparing food outside makes it easier for everyone to remain outside longer to play ball games or enjoy watching wildlife.
Three: Creating a Way to Stay Warm During Cool Evenings
In Ann Arbor MI, the weather changes rapidly, and many summer evenings are cool. You can stay warm near a lit fire pit while continuing to cook and consume meals. A strategically placed fire pit in the correct size allows you to continue using a deck or patio through early autumn when daytime temperatures also get cooler. You will love the ability to enjoy a warm backyard relaxation area in early spring as flowers begin to grow and birds fly back after winter.
Four: Creating a Fun Entertainment Area in Ann Arbor MI
Summertime is when you might want to have a family reunion or wedding in a backyard where everyone is close to all of the amenities needed. A lit fire pit can become the focal point of the day's event with comfortable couches and chairs that permit cozy conversations with your loved ones. You can also have buffet tables located nearby with delicious barbecued food and cool beverages. A beautiful fire in the background of photographs makes the memories special for everyone.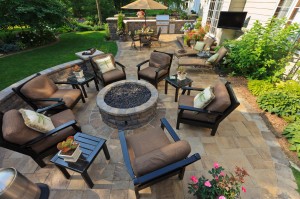 Get your yard looking its absolute best with custom landscaping solutions from Twin Oaks. Find us online at https://www.twinoakslandscape.biz/, visit us in Ann Arbor, MI at 4100 South Maple Road, or call us at (734) 213-6911.
"We recommend Twin Oaks to any entity looking for a full-service, talented, and responsive provider."
Therese Mahoney
Secretary/Treasurer of Doral Creek Condominium Association, Ann Arbor, Michigan