October 4, 2022
Creating a modern outdoor living space can be done with two things: a high-quality design team and beautifully crafted pavers. The pavers used by Twin Oaks Landscape are of the best quality, and our design team is well versed in using these pavers to create and highlight your landscape and hardscape features.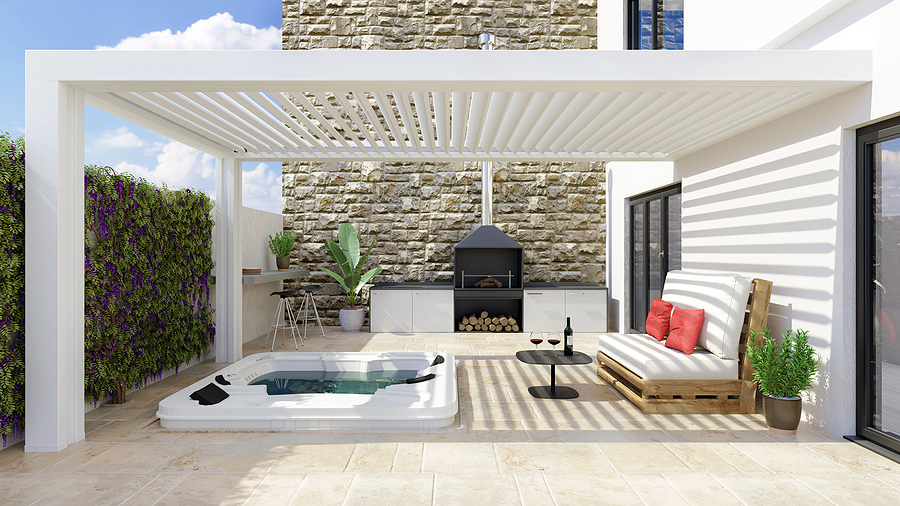 Use Pavers to Create Hardscapes to Complement Your Landscaping for a Modern Outdoor Space
Landscaping is important, but landscaping is only one piece of your outdoor space design. Patios, retaining walls, pathways, and other fixtures are the hardscapes that add texture and dimension. Creating a modern outdoor living space is all about making use of your hardscapes. The pavers used by Twin Oaks are versatile and high-quality.
Consider the Three Design Pillars When Creating Your Modern Outdoor Living Space
The three design pillars are color, texture, and scale. When you are creating a modern outdoor living space, consider these three pillars and how they interact with each other. High quality pavers offer high-definition textures and a rich color palette. You can add even more interest by playing with scale or creating an impressive mosaic.
Use Pavers for a Perfect Walkway
A walkway through your landscaping can create a wonderful feeling of style in your yard. You can use walkways to lead your guests to landscape features, but the walkway itself can be part of your design. Pavers are easy to maintain and will not create the issues with upkeep that gravel and stepping stones can create. You can use the pavers to create a design that draws the eye. Lighting around the pathways and walkways will highlight this feature day and night.
Think of Vacationing in Your Own Backyard
When many homeowners scaled back on vacations during and after the pandemic, they looked to replicate a getaway experience in their own backyards. While the Ann Arbor area isn't ideal for tropical plants, there are still ways to find the experience with landscape and hardscape design. The perfect getaway involves relaxing, and a modern living space created with pavers can be created for a relaxing outdoor experience. A pool design with a patio, a pergola with lights, and a patio with an integrated dining area are perfect for a modern outdoor living space. Fire Pits are perfect for creating a perfect night with family or friends.
Use High Quality Pavers for a High-Quality Outdoor Living Space
The pavers you choose for your hardscape design can make the difference between a modern backyard oasis and something less than that. Twin Oaks Landscape uses the highest quality pavers when constructing patios and hardscapes. Techo-Bloc pavers lend a modern feel and are designed to withstand vehicle traffic, are salt-resistant, and always color-consistent. They are available in a variety of shapes, finishes, and colors to work with every architectural style and are suitable for all projects from driveways to walkways to patios. Because of the consistency in shape and color, creative designs can be incorporated into any project. From vintage style cobblestones to modern and sleek hexagonal pavers, Twin Oaks can find the Techo-Bloc pavers that will be perfect for your modern outdoor living spaces.
Finding the Right Team to Plan Your Oasis
Landscape design is beyond the reach of most homeowners. They know what they want, but they have no idea how to get there. The design specialists at Twin Oaks Landscape, combined with high-quality pavers and years of experience, can turn your ideas into a reality. Start with a wish list of your perfect backyard. Have you always dreamed of an outdoor kitchen or hot tub area? Is a large patio for entertaining with a fire pit something you and your family would love? Consider your ideal backyard and start from there.
Working with the right team can turn your modern outdoor living space dreams into a reality. Twin Oaks Landscape understands the unique climate of the area as well as the best techniques and materials to use. Let us help you create the perfect outdoor living space. Contact Twin Oaks Landscape today.
"We recommend Twin Oaks to any entity looking for a full-service, talented, and responsive provider."
Therese Mahoney
Secretary/Treasurer of Doral Creek Condominium Association, Ann Arbor, Michigan