April 15, 2021
Caring for your lawn requires a year-round commitment that takes time and effort. It can be an overwhelming task that will swallow up a good portion of your time. Most homeowners have busy lifestyles with careers, families, and other obligations that can get in the way of the kind of consistent lawn care that results in the lush, green, and neat yard you want for your property. As spring begins, the benefits of a professional lawn care service can make your spring clean up and spring lawn maintenance something you don't need to worry about.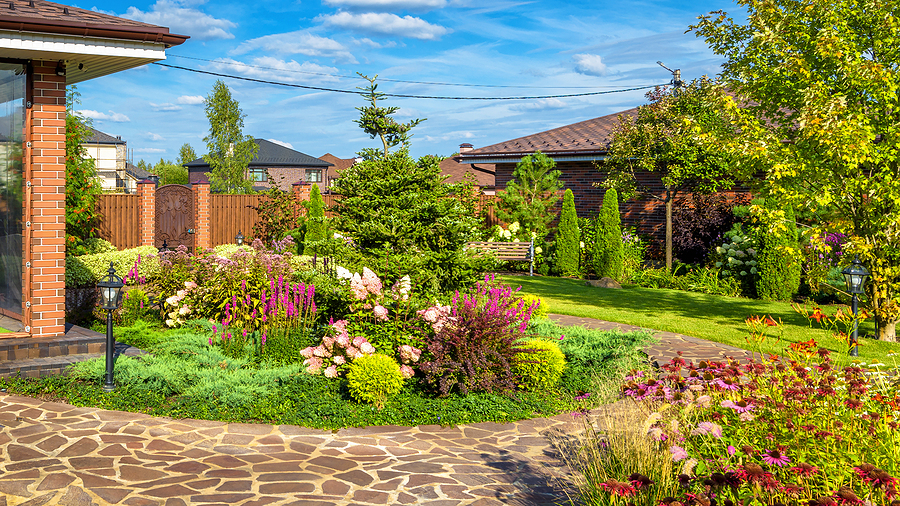 Professional Lawn Care Service Can Handle Your Spring Clean Up
Lawn care and spring clean up can be a time consuming chore. Even if you did a fall yard cleanup, there will still be plenty to do. A spring clean up involves removing all the dead winter growth and debris from your lawn, beds, and gardens. Depending on your yard, the landscaping, and how hard the winter was, this can be an extensive job that requires care in only removing the debris and not damaging any new growth. Having a professional lawn care service to handle this task ensures that it will be done thoroughly and carefully. After the clean up is complete, a professional lawn care service can also take care of edging, mulching, and weeding.
Spring Lawn Maintenance is Essential for a Healthy Lawn
Keeping your lawn healthy and green often requires more than simply mowing and watering. Spring lawn maintenance involves fertilizing at the right time and with the right mixture, understanding the right formulas to deter weeds, crab grass, dandelions and damaging insects, and providing the right amount of watering. A professional lawn care service has the expertise and knowledge of the climate in your area to keep your lawn green and healthy throughout the spring, summer, and fall.
Professional Lawn Care Service Gives You Consistency
Most professional lawn care services will come to your property weekly. Regular and consistent service is essential to a healthy and beautiful lawn, and that can be difficult for homeowners who have career and family obligations. A professional lawn care service has the ability to maintain that schedule. Weekend activities and busy spring evenings will not get in the way of maintaining a beautiful lawn if you leave it to the professionals.
Your Curb Appeal Will Skyrocket with Professional Lawn Care
Curb appeal is important to most homeowners, even if they have no plans to list their home. Your yard is the cornerstone of your curb appeal. A well-maintained lawn has a big impact on your home's appearance. If your landscape is marred by weeds and patches, your home will seem less beautiful and will give the impression of a poorly maintained property on the whole. If you do plan on listing your home, professional lawn maintenance is essential to attract the right kind of buyer and can even raise the selling price.
Professional Lawn Care Services Have the Expertise for All Situations
Most homeowners are not experts in lawn care or landscaping. You know what looks good, and probably know the basics, but you don't know how to remedy aggressive weeds or the ins and outs of successful lawn care. A professional lawn care service has the expertise to address potential issues early in the season alongside the spring clean up, and can keep an eye on everything popping up during spring lawn maintenance. They can deal with fertilizing, pest control, weed control, watering, and maintaining the right balance of it all. Professional lawn care services have all the right tools for every aspect of the job.
A beautiful yard results from getting off to the right start in the spring. Putting the effort into your yard now will create an inviting outdoor atmosphere all season long. Having a professional lawn care service contracted for your maintenance needs ensures that you will have the time to enjoy all the benefits of a well maintained lawn without any of the hassle or time commitment needed to pull it off. Contact Twin Oaks Landscape today for more information about our lawn care and maintenance services.
"We recommend Twin Oaks to any entity looking for a full-service, talented, and responsive provider."
Therese Mahoney
Secretary/Treasurer of Doral Creek Condominium Association, Ann Arbor, Michigan