February 26, 2021
Last year most of us spent more time than we may have expected at home, and many of us found ourselves wishing for a more enjoyable outdoor living space. Spending time at home can be time very well spent if the design is right, and there are plenty of upgrades that can make your outdoor living space into an oasis you will want to relax in. Enhancing your outdoor living space can make your time at home more enjoyable and increase your curb appeal.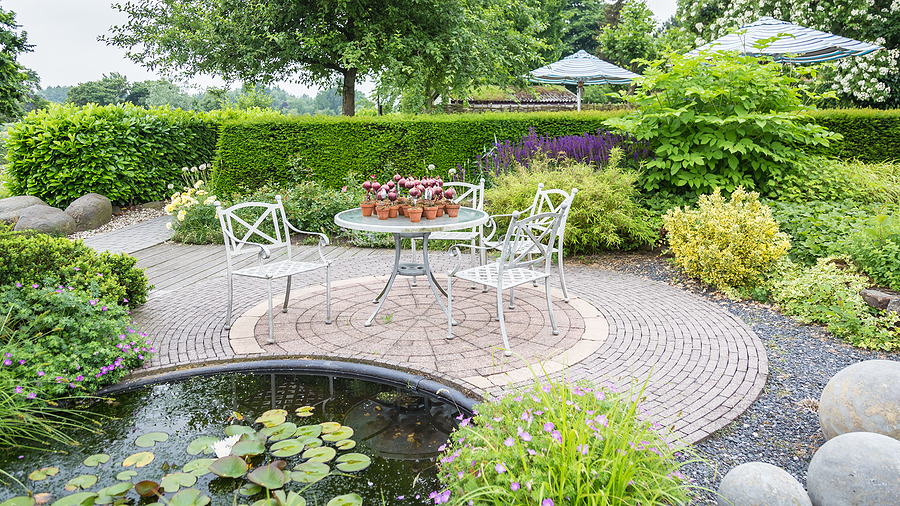 Work Hardscaping and Structures into your Landscape Design Plans
Hardscaping features can help define your landscape design plans. Patios, pathways, retaining walls, borders, and other features can all work together with your landscaping to create a beautiful outdoor space. Stone, brick, and patio pavers are all choices that will elevate the look of your property. Backyard structures such as pergolas, gazebos, and awnings can provide areas of shade, which will make them more comfortable on hot, sunny days.
Consider an Outdoor Kitchen
A grill is a good start, but your outdoor living space can be so much more. Outdoor kitchens have become more common in recent years. Many homeowners begin by simply creating a built-in grill, but sinks, outdoor ovens, wood-fired pizza ovens, and more can be included, even in this region. Working with an experienced landscape design contractor is key when it comes to designing an outdoor kitchen that can stand up to the elements.
Look at Lighting Features
Outdoor lighting is an excellent addition to your landscape design plans. The perfect backyard lighting will be bright enough to see without being overwhelming and will allow you to enjoy the evening hours with a soft ambiance. Solar and LED lighting are great choices for outdoor lighting. In many landscape design plans, there are several levels of light to consider. A primary light source will light the space you are entertaining in, while supplemental lights highlight specific features of your property and landscaping.
Focus on Your Patio
Your patio design can often dictate how the space will be seen and used. When designing your patio, consider the type of furniture you'd like, and whether or not you'd like it to stay primarily "fixed" in place, or whether you'd prefer flexibility. Do you want tables for outdoor dining? An outdoor couch and coffee table centered around a fire pit? Are you looking for a neutral design to allow the landscaping to be the focus, or do you want to use your furniture and accessories to add a pop of color? The way you design your patio will dictate the best way to utilize it, and a landscape design specialist can help guide you.
Consider Water Features
Water features can combine the practical, such as irrigation systems to make your property nearly maintenance free, with the aesthetically pleasing, such as ponds, fountains, and pools. A landscape design expert can help you look for the places on your property where water features can add the right touch.
Upgrading your outdoor living spaces can be as simple or as elaborate as you want them to be. If you know you'll be using your outdoor living space more often throughout the spring, summer, and fall, it can be well worth the investment to make it a place you want to be. Working with a landscape design expert is the best way to take your ideas from planning to finished project. Make your home a place you don't need to take a vacation from with Twin Oaks Landscape. We have the experience and knowledge to design and create a great outdoor space for you and your family. Contact us today to learn more.
"We recommend Twin Oaks to any entity looking for a full-service, talented, and responsive provider."
Therese Mahoney
Secretary/Treasurer of Doral Creek Condominium Association, Ann Arbor, Michigan